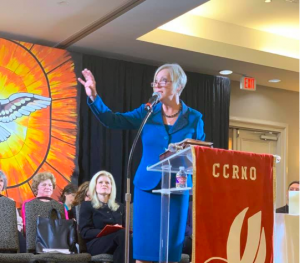 In recent months, I've had many listeners calling in for prayer on my EWTN radio program, Women of Grace Live. Most of them were suffering through difficult and trying situations. Worry and fear seemed to be their constant companions. These understandable, yet challenging emotions, can be hard to confront when things seem out of control. What can they do? Where can they turn? In my estimation, one of the best things to do is to turn to Sacred Scripture. The comfort and direction we need in these times is found in the word of God.
One beautiful chapter of the Scriptures that helps us in dark times is Mark 5. It is within its verses we hear Jesus tell us "Fear is useless. What is needed is trust" (v.36).
He spoke these words to Jarius, the synagogue official who had come searching for Him. His daughter was dying, and he hoped Jesus would heal her. Multitudes of people thronged Our Lord, and all around the sick pressed against Him. One of these was a woman with an issue of blood who had suffered for twelve years. She knew that if she simply touched Jesus' garment, she would be healed. She did and she was. "Daughter, thy faith hath made thee whole; go in peace and be thou whole of thy disease," Jesus tells her.
As He was speaking these words to the woman, people from Jarius' home arrived to tell him his daughter had died. Note what happens next: Jesus ignores the report. Scripture says He "disregarded" it. Instead, He speaks to Jarius and says, "Fear is useless. What is needed is trust." Another translation says: "Fear not, only believe." These are words we should hold close to our heart, and turn to every time doubt, worry, or overwrought concern, assails us.
You see, Jesus knows what He is about. He knows what He is going to do. All things are possible with God. He will take despair and fill it with hope. He will take sorrow and fill it with joy. He will take discouragement and fill it with confidence. He will take death and fill it with life.
This is what the whole chapter of Mark shows us. And we see it fulfilled when Jesus accompanies Jarius to his home: Our Lord tells the wailers and the criers to stop making a din, proclaims the child is not dead but rather asleep, bids the young girl to rise and, to the astonishment of all who are gathered there, she does!
This dramatic moment points to a great truth. God never abandons us. He is always with us. And He's always about a work for us and a work in us. Sometimes His work is evident as it was with the woman who hemorrhaged. But sometimes His work is hidden, and completed only at the end of a journey upon which he accompanies us, as was the case with Jarius. But in all cases, He is working, and He never stops working.
In the midst of pain, in the center of doubt, in the confusion of suffering hold on to the truth – God is with you; He has not left you; He will not abandon you; He will save you. Follow the action of Jarius and the woman with the hemorrhage – go to Jesus, trust in Jesus, and believe in Jesus. Then will healing, hope, and new life come!
Again, my deepest gratitude for your support of our mission. May the abundant life of Jesus Christ be yours and may God bless you!
With joy,