By Susan Brinkmann, OCDS
Staff Journalist
Even though the state of Florida's constitution outlaws same-sex marriage, school officials at Mount Dora High School stripped a former "Teacher of the Year" recipient for defending traditional marriage on his personal Facebook page.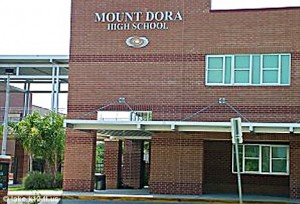 Liberty Counsel, a law firm dedicated to defending traditional values, is representing Jerry Buell, a teacher at Mount Dora High School in Mount Dora, Florida who was suspended from the classroom from comments he posted on Facebook in which he opposed the legalization of same-sex marriage in New York. Buell commented that homosexuality is a sin and that seeing two "grooms" kissing on a news story revolted him.
According to the American Family Association (AFA), Buell wrote, "If they want to call it a union, go ahead. But don't insult a man and woman's marriage by throwing it in the same cesspool of whatever. God will not be mocked. When did this sin become acceptable?"
Minutes later, he added, "I will never accept it because God will never accept it. Romans chapter one."
A 2002 Mount Dora graduate saw the comments and contacted the school to complain. In response, the Lake County School District took away his teaching privileges and reassigned him to administrative duties.
Buell, who has been an exemplary teacher for 22 years, is now being subjected to an "Inquisition-type" investigation, the AFA writes, with the school vowing not to let him back into the classroom "until we do all the interviews and do a thorough job of looking at everything – past or previous writings."
Buell responded by saying: "It was my own personal comment on my own personal time on my own personal computer in my own personal house, exercising what I believed as a social studies teacher to be my First Amendment rights."
The attorneys at Liberty Counsel agree and are demanding that he be immediately reinstated with an apology from the school for violating his First Amendment rights.
"Public school teachers are not constitutional orphans. They, like all Americans, enjoy the freedom to engage in discourse about matters of public concern," says Harry Mihet, Senior Litigation Counsel for Liberty Counsel.
"Mr. Buell is being investigated and punished for communicating his mainstream objection to homosexual marriage, an objection shared by a large majority of his fellow Floridians who have outlawed homosexual marriage through a constitutional amendment. If the First Amendment does not protect Mr. Buell's right to voice his personal opinion, on his personal time, from his personal computer, on his personal Facebook page, then the First Amendment means nothing."
The AFA is urging members to send an e-mail to the school district to demand Mr. Buell's return to the classroom. Click here for more information.
© All Rights Reserved, Living His Life Abundantly®/Women of Grace®  http://www.womenofgrace.com