By Susan Brinkmann, OCDS
Staff Journalist
Friday, September 16 will be an historic day in the lives of Catholics in England and Wales – it is the day that the traditional Friday fast will be re-established.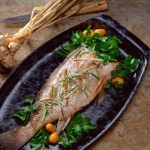 According to William Oddie of the Catholic Herald, the bishops issued a short but exquisitely worded statement on Saturday announcing a return to the practice. The bishops claim the idea came during the "afterglow" of Pope Benedict XVI's visit to England last year when many people recommended that the fast be restored.
In their statement, the bishops reminded the faithful that Friday has always been a day set aside for penance, which is done through prayer which unites us to the sufferings of Christ's passion; fasting which helps us to die to self in order to be closer to Christ; and by almsgiving which demonstrates our solidarity with the sufferings of Christ in those in need. 
"All three forms of penance form a vital part of Christian living," they wrote. "When this is visible in the public arena, then it is also an important act of witness."
They go on to say that it is their wish to re-established the practice of Friday penance in the lives of the faithful "as a clear and distinctive mark of their own Catholic identity."
The best habits are those which are acquired as part of a common resolve and common witness, they say, which is why it is important that all the faithful be united in a common celebration of Friday penance.
"Respectful of this, and in accordance with the mind of the whole Church, the Bishops' Conference wishes to remind all Catholics in England and Wales of the obligation of Friday Penance. The Bishops have decided to re-establish the practice that this should be fulfilled by abstaining from meat. Those who cannot or choose not to eat meat as part of their normal diet should abstain from some other food of which they regularly partake. This is to come into effect from Friday 16 September 2011 when we will mark the anniversary of the visit of Pope Benedict XVI to the United Kingdom."
Those who wish to go beyond this simple act of common witness can mark each Friday with a time of prayer and further self-sacrifice if they wish. 
"What has now happened has been gathering momentum ever since the pope's visit to Britain," the said. "It will be recalled that during the papal afterglow some very surprising people started to recommend the restoration of the Friday fast. Bishop Kieran Conry, for instance, argued that abstaining from meat on Friday '…. was one of the most obvious signs of Catholic identity, apart from going to Mass. It determined the diet in places like prison and hospital, and was something that Catholics were instinctively conscious of: we knew that we couldn't have meat like everybody else that day, and it was a source of a sort of pride – it marked us out as different.'"
As Oddie notes, "The point, of course, is not simply that we abstain from meat on Friday (if we do) as a personal devotion: it is that we once did it, and soon will once more, out of obedience to the authority of the Church. It was once, and, deo gratias, will be again, a constant reminder that once we have taken the initial choice of committing ourselves to being Catholics in the first place, we are under obedience."
He adds: "In the end, it's obedience, not personal choice, that holds us together as a people."
© All Rights Reserved, Living His Life Abundantly®/Women of Grace®  http://www.womenofgrace.com