By Susan Brinkmann, OCDS
Staff Journalist
In order to win concessions from the Democrats on budget cuts, House Speaker John Boehner agreed to remove a rider that would strip Planned Parenthood of all taxpayer funds, but on one condition – that the U.S. Senate be permitted to vote on the rider in spite of Majority Leader Harry Reid's promise to never allow such a vote to take place. This historic vote has been scheduled for Thursday.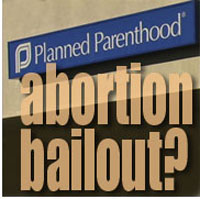 LifeNews is reporting that the Pence Amendment, which strips millions of taxpayer dollars from the nation's largest abortion provide under the Title X program, will come to the Senate floor for a vote on Thursday.
Pro-life groups are already warning Senators that anyone who votes to continue funding Planned Parenthood will be held accountable on election day.
"Any Senator who votes to continue taxpayer support for scandal-ridden Planned Parenthood will be a prime target of our election efforts in 2012," said Brian Burch, president of CatholicVote. "These votes will have consequences. If Senators want our support, they must earn it. And if they fail us, we will do everything possible to defeat them."
Kristan Hawkins, the president of Students for Life of America, said: "Just two months ago, experts were telling me that getting a vote in the Senate would be impossible, and I shouldn't even hope for it, and said that Planned Parenthood funding caused the budget impasse between Democrats and Republicans was a victory.
"Think about this," she said. "Our efforts were so effective that the disagreements over Planned Parenthood funding between the pro-life House and pro-abortion Senate leadership almost caused a government shutdown."
The last time the Senate voted to defund Planned Parenthood was in 2007 when they rejected an amendment put forth by Sen. David Vitter (R-LA). The bill was defeated in a 52-41 vote with all Republicans voting for it, and all Democrats voting against it, including two pro-life Democrats Ben Nelson of Nebraska and Bob Casey of Pennsylvania.
Thus far, several Republicans have already announced that they won't support the Pence Amendment, including Sen. Scott Brown (R-MA), Sen. Olympia Snow (R-ME) and Sen. Lisa Murkowski (R-AK).
Click here to contact your Senators today!
© All Rights Reserved, Living His Life Abundantly®/Women of Grace®  http://www.womenofgrace.com