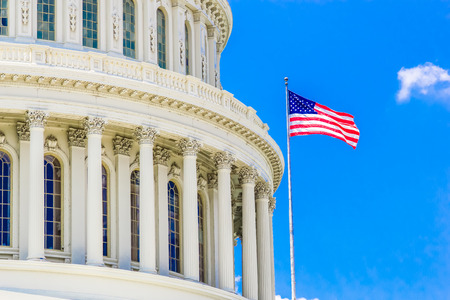 The 116th Congress is overwhelmingly Christian with 88 percent of its members professing Christianity. On the other hand, just 0.2 percent identify as "nones" who have no religious affiliation.
The Pew Research Center just published a new report entitled, "Faith on the Hill: The Religious Composition of the 116th Congress" and found a few surprises in the numbers.
First, the number of Christians slightly dipped from the last Congress, down three percentage points from 88 to 91 percent. Congress picked up four more Jewish members, one additional Muslim and one more Unitarian Universalist.
"While the number of self-identified Christians in Congress has ticked down, Christians as a whole – and especially Protestants and Catholics – are still overrepresented in proportion to their share in the general public," Pew reports. "Indeed, the religious makeup of the new, 116th Congress is very different from that of the United States population."
While 163 members identify as Catholic (30.2%), 293 members profess some branch of Protestantism (54.9%), with Methodists, Anglicans/Episcopalians, Presbyterians and Lutherans being the most numerous.
Differences by party are quite dramatic. While only two members of the Republican caucus do not identify as Christian (Reps. Lee Zeldin, R-NY, and David Kustoff, R-TN are both Jewish), 61 of the 282 Democrats do not identify as Christian. Of that number, more than half (32) are Jewish, 18 declined to specify a religious affiliation, three members are Hindu, three members are Muslim, two are Buddhist and two are Unitarian Universalist. One member is religiously unaffiliated.
The report also found that a growing number of congressmen and women are declining to specify their religious affiliation and categorize themselves as "don't know/refused."
"This group – all Democrats – numbers 18, or 3% of Congress, up from 10 members (2%) in the 115th Congress," Pew reports. "Their reasons for this decision may vary. But one member in this category, Rep. Jared Huffman, D-Calif., announced in 2017 that he identifies as a humanist and says he is not sure God exists."
By far, the largest difference between the U.S. public and Congress is in the share of members who are unaffiliated with a religious group. While 23 percent of Americans identify as atheist, agnostic, or "nothing in particular," only one member of Congress – Sen. Kyrsten Sinema, D-AZ – says she is religiously unaffiliated, making the share of "nones" in Congress just 0.2%. During her swearing in ceremony, she refused to use a Bible and put her hand on the Constitution instead.
While it's interesting to note the religious composition of our Congress, the questionnaire does not attempt to measure how much, or how little, individual members practice the faith they profess.
This is why it remains of the upmost importance that the faithful pray for our Christian representatives that they may "be persistent whether it is convenient or inconvenient" (2 Tim 4:2) in following Christ.
© All Rights Reserved, Living His Life Abundantly®/Women of Grace®  http://www.womenofgrace.com