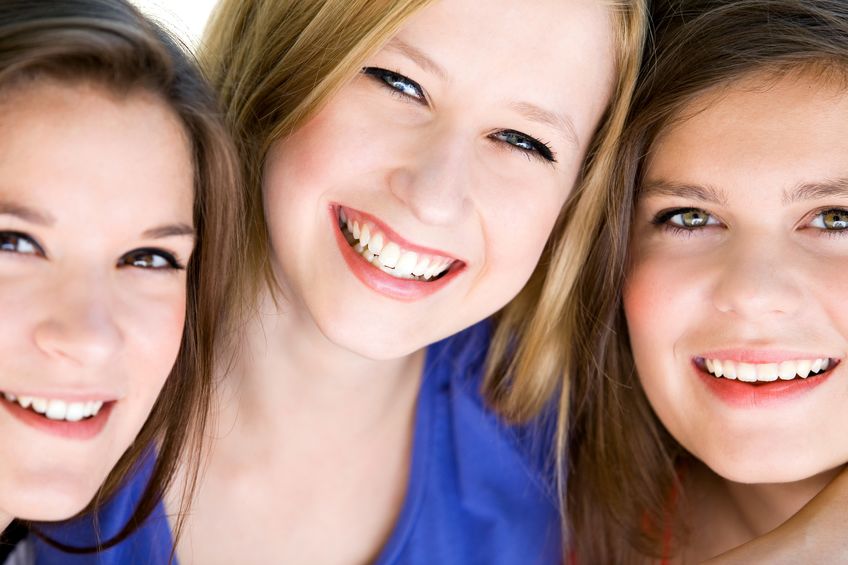 Spare time is a hot commodity for most teen girls. They cherish it and like to spend it doing fun things like chatting on social media, playing sports, and hanging out with their friends. The last thing they want to do in their off-hours is take another class. So if you're interested in facilitating a
Young Women of Grace
group outside of school, here are a few tips to get you started.
1. Call It a Club!
If you're planning an after-school Young Women of Grace group, it's a good idea to run the program more as a "club" for girls than as an academic activity. For example, when you advertise the group, refer to it as an "after school club for young Catholic women" who get together for games, crafts, heart-to-heart talk, and to learn how to live an authentically feminine life in this #Metoo age. For example, here's a sample bulletin ad that might inspire girls to give it a try:
Young Women of Grace is coming to our parish! 
Attention girls ages 13+! If you like getting together with your friends for games, crafts, and plenty of "girl-talk" about our femininity and how it can empower us in this #MeToo age, then this program is for you! We plan to meet (list day/time/place) beginning (date). Bring your friends and get ready to learn how to use your feminine genius to change the world!
2. Let the Moms Help!
Another way to get a group started is through the mothers. In my case, I am single and have no children so the idea of starting a group was a bit intimidating. How was I going to do this? I didn't know too many teens or any of the teachers in our parish school.
Thankfully, one of the mothers in my parish saw me on EWTN's Women of Grace show with co-developers Mary Dillenback and Susan Jacobsen and contacted me about wanting to get a group started at our parish. I jumped at the chance! Not only did she have a teenage daughter, but her daughter was "well-connected" in the local high school and knew a slew of girls who might want to join. Within six weeks, I had more girls than I could fit into our parish facility and ended up facilitating three groups!
3. Host an Information Night
Once you have your pastor's approval, an easy way to get a group started is to host a 2-hour information night in your parish where moms and daughters can come to review the materials and hear more about the program. We can provide a brief Power Point presentation you can use to introduce the study. Make it fun by providing some refreshments and maybe even letting moms and daughters participate in one of the exercises from the Facilitator/Teacher Guide. Just send an email to young@womenofgrace.com if you'd like to give this option a try and we'll help you get started.
4. Be Flexible!
Girls are involved in all kinds of activities after school so this club will have quite a bit of competition for whatever spare time they have. If girls think they have to make every meeting, they might not sign up. Make sure to let them know that missing a meeting is okay. Facilitators simply send a text to whoever misses the meeting to let them know what material to prepare for the next meeting. This way, they can "stay on the same page" with the rest of the group regardless of an absence.
5. Encourage Group Enrollment
Because girls don't like to join anything alone, encourage groups to join, such as girls from your parish youth group or local homeschool co-op. Girls enjoy getting together on a regular basis with their friends to talk about "girl stuff" in a way that they can't do in meetings where guys are present so encourage them to "bring your friends!"
6. Let Local Women of Grace Groups Help
Women of Grace groups are also a great source of connection to mothers whose daughters may be interested in starting a club. If you have a group in your parish, don't hesitate to contact them. If not, we have a list of Regional Coordinators who are spread out across the country and may be able to help connect you to Women of Grace study group members. Just send an email to young@womenofgrace.com and we'll be happy to help you make a connection.
7. Get Approval from Your Pastor
If the pastor is on your side, he can help you get this started by recommending you to youth ministers, women's groups, or others in your parish who may be able to connect you with the teen audience you seek.
8. PRAY!
Last, but most important of all, pray for God's help! In particular, I turned to St. Kateri Tekakwitha who we consider to be our patroness after a remarkable series of incidents that began on the set of EWTN in 2015. Check back tomorrow for that amazing story!
© All Rights Reserved, Living His Life Abundantly®/Women of Grace®  http://www.womenofgrace.com
Click here to learn more!