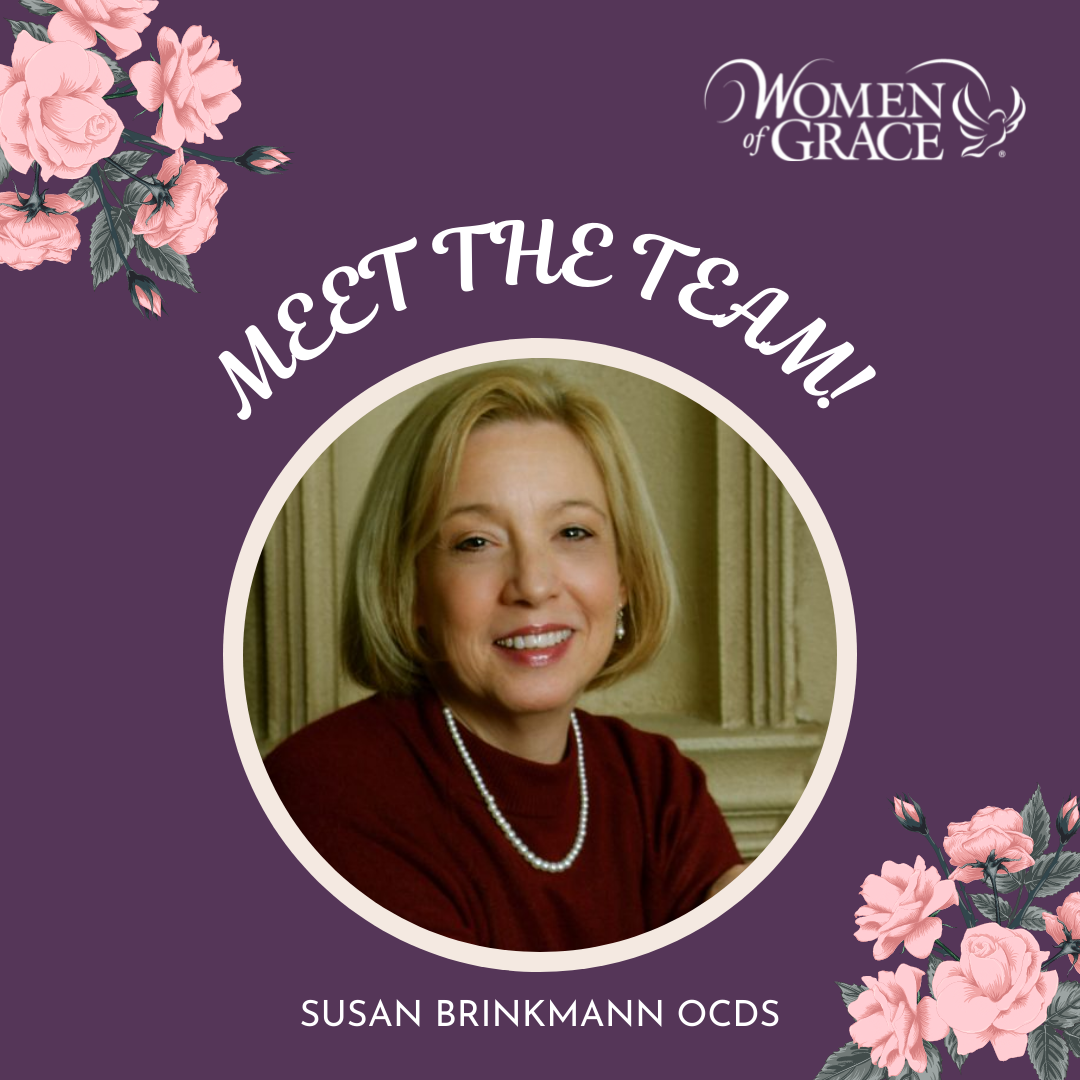 It's time to meet the team that makes Women of Grace the impactful apostolate that it is!
Today we're featuring Susan Brinkmann, OCDS, who is our Director of New Age Research. We hope you enjoy learning more about Sue from her answers to the questions below. Stay tuned for regular "Meet the Team" features!
1 How long have you been on the Women of Grace team and how did you begin? "I began working here on January 2, 2008. Johnnette and I knew each other when I worked as a reporter for the Catholic Standard and Times of the Archdiocese of Philadelphia. I used to interview her from time to time about New Age subjects. During one interview, I asked her if she knew anyone who was looking for a Catholic writer who does not compromise the faith. She said, 'I am!' The rest is history."
2 What do you love best about Women of Grace's apostolate? "My favorite thing about the Women of Grace apostolate is how it empowers women and cuts through all the confusion of our time. Our culture has a very disingenuous approach to women. It professes to be standing up for their rights, but at the same time, it promotes practices that are very destructive of women's self-esteem such as promiscuity, abortion, birth control. These are presented as hip and liberating, even though women's lived experience proves that the flip side of these practices – the broken relationships, the lifelong regret, sexual abuse (#MeToo) – is closer to reality. While pretending to stand up for women, our culture is actually doing the exact opposite, which is especially true for women on the ideological right who are treated like backward bimbos whose voices are deliberately stifled and/or misrepresented. All of these conflicting messages are a source of great confusion to women, which is why Women of Grace's message - that our dignity comes from being a daughter of God, not from what this or that political group determines- is so encouraging for women. It lifts them above the politics and reminds them of who they really are, regardless of how the world wants to define them."
3 What is your favorite devotion? "My favorite devotion(s) is Total Consecration to Jesus through Mary and also Divine Mercy"
4 Who is your favorite saint? "My favorite saint is St. Therese of Lisieux."
5 If you could have lunch with Jesus today, what would you want to talk about? "If I could have lunch with Jesus, I would talk His ear off because He's my BFF and I'd ask Him about all the things we're working on together – my vocation as a Carmelite and a writer, my interior life, my prayer life. Everything!"
© All Rights Reserved, Living His Life Abundantly®/Women of Grace®