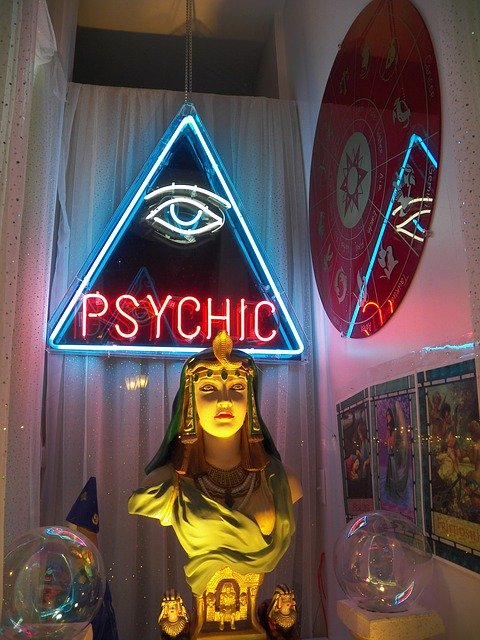 AB writes:
"I was watching a show on Discovery the other day and they had a commercial about a new website called, Keen.com, where people can go to connect with a psychic, tarot card reader, astrologer, etc. What do you know about this site?"
Keen.com is not new. It was founded in 1999 by Karl Jacob, a former Microsoft Corp. executive who worked closely with venture capital firm Benchmark Capital to develop Keen. The site was originally founded to help people connect with psychics by phone, similar to Dionne Warwick's Psychic Friends Network and the Psychic Readers Network which were so popular in the late 90's. Keen continues to serve as a kind of referral service for psychics, readers, mediums, astrologers, etc. who meet with clients via phone or chat. The site does a brisk business with 1.74 hits to the site in just the past six months.
For example, Rasberi, who offers psychic services, is advertised as a "natural-born empath" who specializes in feelings and thoughts. "I am down to earth and will provide you with truthful insight striving to give you an honorable reading with no sugar-coating. Are you hoping or coping?" She has provided more than 28,000 readings and has a satisfaction rating of 4.9 out of 5. You can book a chat with her for $3.77 a minute after the first 3 minutes which are free.
Kristen Knightingdale is a tarot reader who refers to herself as "a 100 % REAL Psychic" who claims that her readings are always "accurate and insightful." She charges $5.50 a minute with the first 3 minutes free and has a 4.8 out of 5 rating.
Eye of George refers to himself as "an amazingly talented astrologer and tarot reader" who studied astrology, Tarot and I-Ching from an early age. He has done more than 36,000 readings and charges $4.99 a minute after the first 3 minutes with are free. He has a 4.3 out of 5 rating.
It's important to note that all of the customers who visit this site are happy campers. The Better Business Bureau provides a long list of complaints from customers who were disappointed with their readings but were essentially told by Keen that they were on their own because the site only connects people with "advisors" but doesn't guarantee the accuracy of those who offer services through the site. "You must use your judgment to determine whether to initiate, receive and/or discontinue use of the Services," they told one complainant.
Another person who had a poor reading, and then wrote a negative review about the provider, was subsequently harassed by the reader. "She contacted me, harassed, bullied, belittled and disrespected me. And then she blocked me. So I could not comment back. After I told her how I felt about her, I found her behavior to be belittling, disrespectful, unprofessional, crude, nasty, and vicious."
Again, Keen referred to the fact that are "simply the technology platform which lets the users and advisors communicate with each other" and promised to have the matter reviewed by their "Play Fair" team. There is no record of any resolution to this complaint.
They even had a complaint from one of their "advisors" who wrote, "Keen, I know you see all these complaints about psychics being fake and phony, and I noticed that your only explanation is that you act as a bridge between the customer and the psychic, which I feel like you [are] attempting to save face and refusing responsibility. If you are aware that there may be devious psychics on your site, you need to do something about it to weed them out from the actual advisors like me who have genuine gifts."
This advisor went on to complain about how customers "run straight to the review section with 9 times out of 10 is riddled with angry customers who made assumptions or wanted free readings and now want to ruin the reputation of the psychic because they can't get refunds. Before anyone is allowed to leave a review, there needs to be a wait time because a lot of people come to me FOR PREDICTIONS and leave me negative reviews right away because they don't like the truth (no your ex isn't coming back Susan!) even before the prediction has time to manifest! It is ridiculous that nothing is done about this and people can slander my name because they are used to other psychics who spew rainbows and sunshine in every reading when they get nothing but honesty with me...."
Ouch! Not even the "advisors" are happy with this site, but is it any wonder? When one markets in chicanery and/or connecting people to the realm of darkness, what other outcome can there be besides anger and disappointment?
Sadly, Keen.com is a website with lovely graphics full of soft imagery alongside warm and loving entreaties designed to appeal to the naïve and the desperate by promising them "answers and intuitive insights" to all of life's ills. We can only pray that the users of this site will learn about the dangers of participating in these practices before it's too late.
© All Rights Reserved, Living His Life Abundantly®/Women of Grace®  http://www.womenofgrace.com
Women of Grace® has compiled a library of over 1400 articles on New Age and occult related material and has been offering them to the public for more than a decade – at no charge! If you appreciate our research, please prayerfully consider making a donation to support this vital work! Click here to donate!