By Susan Brinkmann, OCDS Staff Journalist A Catholic blogger recently discovered that two well-known ice hockey stars decided it would be a cool idea to use the venerable Stanley Cup trophy as a baptismal font for family members, a decision that sparked outrage among fan, but not for abusing the sacrament - for not showing proper respect to the Cup!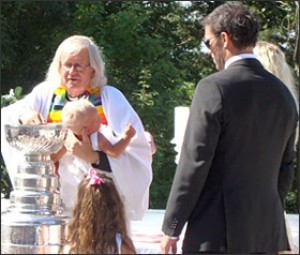 According to Kathy Schiffer, a deacon's wife and author of the
Seasons of Grace
blog, the most recent incident occurred in 2008 when Detroit Red Wings' right winger Tomas Holmstrom arranged for his seven week-old niece to be baptized in "Lord Stanley", aka the Stanley Cup, in a private ceremony outside Holmstrom's hometown of Pitea in northern Sweden. Apparently, he and Holmstrom came up with the idea while vacationing together in the hockey star's summer cabin. The baby's father told the Canadian Press that "Me and my wife thought it would be fun to christen our daughter in such a priceless object." (see photo at right.) Schiffer decided to do a little digging and found out this wasn't the first time the Cup had been used as a baptismal font. In 1996, Sylvain Lefebvre of the Colorado Avalanche had his daughter Alexzandra baptized in the Cup. (See photo below) But what struck Schiffer as even more appalling than the act of using such an object to administer a sacrament was the response of the readers who commented on the stories.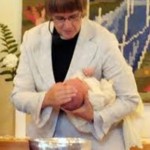 "I know the commenters were hockey fans; but the overwhelming message was that the baptism was highly inappropriate and disrespectful," Schiffer writes. "Not to the Sacrament of Baptism, mind you. No, a majority of sports fans seemed to feel that the baptism was disrespectful to the trophy." For instance, one reader wrote: "I hope the league fines and severely reprimands Holmstrom for abusing the cup in this manner. This to me shows a total lack of respect for the trophy. He should be ashamed. I cannot believe that the cup custodians even allowed this to happen. I am outraged." As Schiffer remarks, what is somehow being lost in the debate about the debacle is a discussion of the proportional honor due to hockey's sacred trophy (as in, game) vs. the Church's sacrament of initiation (as in, eternal salvation). "It was not the repurposed Cup, but the Sacrament of Baptism that was slightly dented in this charade. With the Holy Grail filled to the brim with holy water, it's hard to imagine that the baby's parents and godparents were focused on Original Sin, and prayers, and introducing their newborn child to God. No, I'm thinking they were googly-eyed over their daughter's expensive and highly acclaimed baptismal font," she writes. "For what it's worth, it appears that the rituals involved were not Catholic," writes Deacon Greg Kandra of the popular blog,
The Deacon's Bench
. "But I can't imagine that serious-minded Christians of any stripe would look at something like this and think, 'You know, that's a great idea!  Where's my old bowling trophy?' This whole gimmick turns something sacred into something worse than profane." © All Rights Reserved, Living His Life Abundantly®/Women of Grace® 
http://www.womenofgrace.com