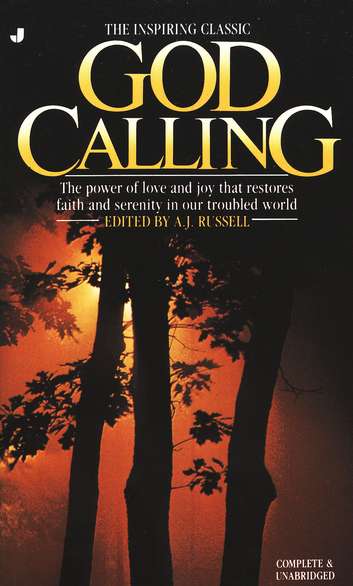 JM writes:
"I am concerned about a group of Catholics who have been using the book, "God Calling".  I heard years ago that it was occultic and I know it is not Catholic, but many enjoy and are amazed at the daily readings and how they kind of "click" with something currently going on in their lives.... I think it is very deceptive.
"I got rid of mine 30 years ago when I heard the "two witnesses" used automatic handwriting to get their messages and am dismayed to see this lovely group of women depending on it  - almost daily for some of them.  I've told a couple of them about my knowledge but would like something on paper to show them."
JM, you have done these ladies a great favor by looking for evidence that will support what you already know – God Calling was written by two "listeners" who were practicing automatic writing when they supposedly received direct messages from Our Lord. Even though Scripture abounds in the book, as one authority puts it – just because a book contains Scripture passages doesn't make it a good book. After all, the use of Scripture to fool Christians is one of the devil's oldest tricks – he used it on Christ Himself! (Luke 4)
This article on the subject of both God Calling and a contemporary spin-off entitled Jesus Calling gives an in-depth look at what's wrong with these books.
God Calling is a book of messages that were allegedly given to "two listeners" (their identities are not revealed) back in the mid-1930's. One of the listeners explains that in 1932, she received a copy of a book by A. J. Russell entitled, For Sinners Only, and was so impressed she and a friend decided one day to "get guidance" from the Lord in the way A. J. Russell recommends in the book.
Russell's method involves sitting down with paper and pencil, letting the mind go blank, then writing down anything that flashes across it, which Russell says should be considered akin to God's orders for the day.
This is precisely what the two listeners did. "We sat down, pencils and paper in hand and waited…. My results were entirely negative.... But with my friend a very wonderful thing happened. From the first, beautiful messages were given to her by our Lord Himself, and every day from then these messages have never failed us."
After they had a collection of these messages, they sent them to A. J. Russell who immediately got to work preparing them for publication in the book now known as God Calling.  It's been a bestseller ever since.
It's important to note that the Vatican condemned all forms of automatic writing and also condemned A. J. Russell's group, known as The Oxford Group/Moral Rearmament, which espoused these methods of communicating with God.
Protestant authorities are equally condemning of the kind of false guidance being presented as God's words by A. J. Russell and the listeners in God Calling.
In an article appearing in the Christian Research Institute Journal, Edmund Gruss quotes Pastor Harold T. Commins, a former member of the Oxford Group, who said "this idea of 'guidance' is false to the Scriptures....Sitting down with paper and pencil in hand and letting the mind go absolutely blank and then writing down whatever flashes across the mind as God's orders for the day is beyond anything promised or sanctioned in Scripture. Indeed this 'passivity' of mind is a very perilous condition to be in for it is precisely at such moments that Satan gains control and does his devilish work."
Gruss' article also points out many statements supposedly made by Christ in God Calling that do not square with Scripture:
• "I need you more than you need me" (p. 60). • "I await the commands of my children" (p. 63). • "I do not delay My second coming. My followers delay it" (p. 177).
While he warns us not to question the sincerity of the "two listeners," we must accept that the method of guidance they employ is not Christian.
"The good thoughts and inspiring statements attributed to Christ in God Calling often are combined with faulty theology and the misinterpretation of Scripture. True communications from the 'Living Christ' would not have these defects."
Click here to read about the controversy surrounding the connection between God Calling and the best-selling book, Jesus Calling.
© All Rights Reserved, Living His Life Abundantly®/Women of Grace®  http://www.womenofgrace.com