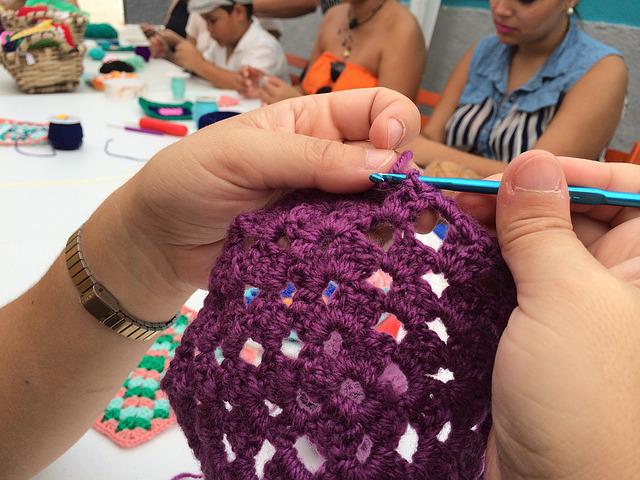 RG writes:
"At my (Roman Catholic) church today, some women in the narthex were promoting a "prayer shawl ministry" and handed me a brochure promoting this website:
http://www.shawlministry.com/
. Overall, it sounded like a good idea - providing comforting prayer shawls for the homebound and hospitalized. I thought it odd that there was a reference to "applied Feminist Spirituality." So when I went home, I checked out the website. There are a few troubling non-Christian things discussed there such as where they talk about "chakras" under Symbolism --> Aroma therapy. They also talk about a "mothering God" which sounds a bit New Age-like to me. By the way, they are willing to teach people how to knit and crochet, and I would like to learn (learned as child, but forgot). I just don't want some New Age agenda pushed on me or to do anything contrary to my Christian faith. Would like your comments."
This is one of several complaints that we have received from women who became involved in the prayer shawl ministry – specifically, about New Age concepts found on the website of the The Shawl Ministry.
First of all, there is absolutely nothing wrong with prayer shawl ministries in general. As this article states, they can be beautiful works of mercy that consist of one person praying for another while knitting them a shawl or blanket. Many knitters pray over their yarn and needles before beginning, and pray throughout the project. When completed, the piece is often taken to church and blessed before being presented to the recipient.'
The problem is with the founders of The Shawl Ministry. It was started by Vicki Gallo (a Catholic) and Janet Bristow after they attended classes at the Women's Leadership Institute at Hartford Theological Seminary where they delved into a study of the "divine feminine." Their teacher was none other than the radical feminist theologian and Medical Mission Sister Miriam Therese Winter, who is associated with several organizations that openly dissent from Church teaching such as the pro-women's ordination groups WomenChurch and FutureChurch, and with those who believe in Sophia goddess-worship. This site contains a feminist version of the Our Father written by Sr. Miriam.
This might explain where that New Agey-feel is coming from. Gallo and Bristow obviously wanted their ministry to be "inclusive" of women of all faiths, because they recommend that the shawls be given during croning and/or leading rituals which are usually associated with Wiccan and other pagan groups, many of whom are involved in the occult. They also feature a page on their site devoted to aromatherapy where they reference "chakras" – an eastern belief in energy centers that supposedly exist in the body.
Also on the site is a link to a "Reflecting Pool" that includes a prayer to Kuan Yin (a Chinese Buddhist goddess), and other questionable prayers.
RG, from what I could see, most of the Christian churches are not carrying these New Age/occult influences into their ministries so it's probably safe to learn how to knit at your local shawl ministry; however if you see any evidence of these non-Christian beliefs or materials being incorporated into the meetings, quit the group and consider starting your own.
© All Rights Reserved, Living His Life Abundantly®/Women of Grace®  http://www.womenofgrace.com