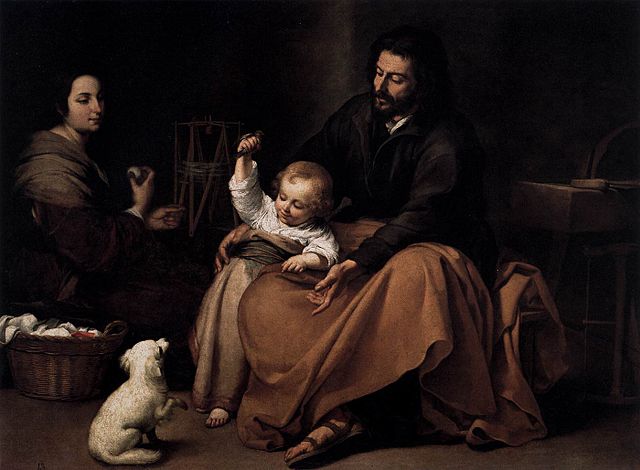 Reflections and meditations written around the May 1st Feast of Saint Joseph the Worker generally tend to focus on the many sterling qualities of the carpenter of Nazareth. His closeness to God, upright character, and masculine strength as husband to Mary and foster father to Jesus often provide the lead-in to the main point of the writing as appropriate to the feast: Joseph's role as breadwinner. As the sole support of the Holy Family, surely he worked diligently at his craft, passing it on to Jesus, father to son.
While all of these sentiments remain true, a reflection on this particular feast written this year must of necessity take on a quite different meaning and tone.
These are no ordinary times, after all. For example, Archbishop Jose Gomez, President of the U.S. Catholic Conference of Bishops, announced that the Bishops of the U. S. and Canada have chosen the date of May 1st to re-consecrate their nations to the care of our Blessed Mother. "This year, we seek the assistance of Our Lady all the more earnestly as we face together the effects of the global pandemic," he stated. The Feast of Saint Joseph the Worker is made even more solemn in this shared significance.
It goes without saying that one critical area of human life which has sustained dramatic changes resulting from the pandemic is that of work. Surely, it's safe to say that just about every aspect of what we consider the "normal" work world has been turned upside down by current measures attempting to stem the tide of the COVID-19 virus.
Numerous homes, generally left empty each weekday, their occupants off to work and school, have been transformed into centers of business and learning spanning all hours of every day. That's assuming that the adult household members still hold jobs with obligations to fulfill at home.
Far more serious consequences have ensued for millions of Americans who suddenly find themselves with no means of earning a living at all. A brief glimpse at daily news coverage relentlessly drives home the stark reality of jobs lost, businesses shuttered – temporarily or permanently – careers halted in midstream.
Shock, fear, apprehension – any or all of these reactions would be totally understandable when livelihood and future for self and loved ones appear to be in serious jeopardy.
So what's the connection to Saint Joseph the Worker? While we don't learn a whole lot about him from Sacred Scripture, one fact that does come across clearly is that Saint Joseph was no stranger to loss of employment due to unforeseen circumstances.
Consider the totally unexpected trip from Nazareth to Bethlehem at the worst possible time, just before the birth of Jesus, at the demand of Caesar Augustus (Lk 2:1-5). The carpenter's workshop would remain quiet and undisturbed for quite some time; Joseph could not have imagined just how long when he and Mary set out on their journey.
Saint Matthew's account describes continued disruption in Joseph's work life at the murderous hands of King Herod (Mt 2:13-15, 19-23). Fleeing to Egypt with his wife and young child, in fear for Jesus' life, Joseph would have been burdened with the difficulty of finding suitable work for what may have been a quite lengthy period of time. In a strange land, with no helpful connections of loved ones or friends, he experienced the refugee's classic struggle for employment to provide for his family.
Upon the return of the Holy Family to Nazareth (Mt 2:23), Joseph resumed his carpentry trade, but even then, there were no guarantees of a steady, thriving workload. On the contrary, the general perception of the Holy Family's lifestyle is one of the greatest simplicity, even poverty.
The trying situations thrust upon Saint Joseph make him an ideal intercessor for the untold numbers of workers coping with loss of employment in our current crisis. He truly understands the damage to identity, scarcity of funds for daily necessities, and fears for the welfare of one's family.
Some words of Pope Francis given on this feast in 2013 are eerily appropriate to the employment crisis being faced by so many today: "Do not lose hope. St. Joseph also experienced moments of difficulty, but he never lost faith and was able to overcome them, in the certainty that God never abandons us."
In this we learn the secret of Saint Joseph's ability to weather even the most unexpected and frightening work-related challenges. His steadfast faith, trust in God, and obedience to His will enabled him to overcome many difficulties and thus keep the Holy Family safe and secure.
Countless saints and popes would advise, simply and directly, "Go to Joseph!" acknowledging the power of this "Model of Workers," one of his titles listed in the traditional Litany of Saint Joseph prayer.
Sincere words from one's heart, or a brief, simple prayer such as the Memorare that follows, recited frequently, surely will touch the heart of the humble carpenter of Nazareth, Saint Joseph the Worker.
Memorare to Saint Joseph
Remember, O most pure spouse of the Blessed Virgin Mary, my great protector, Saint Joseph, that no one ever had recourse to your protection or implored your aid without obtaining relief. Confiding therefore in your goodness, I come before you. Do not turn down my petitions, foster father of the Redeemer, but graciously receive them. Amen.
© All Rights Reserved, Living His Life Abundantly®/Women of Grace®  http://www.womenofgrace.com
EWTN Global Catholic Network will air the brief liturgy and prayer of re-consecration at 3 p.m. ET, Friday, May 1, live from Our Lady of the Angels Cathedral in Los Angeles with Archbishop Gomez celebrating. This event will also be livestreamed onto EWTN's Facebook page.