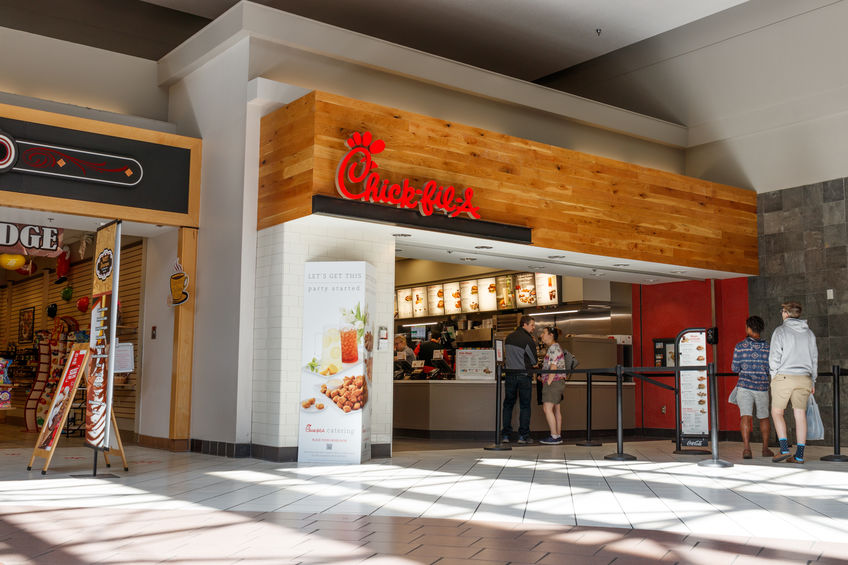 Commentary by Susan Brinkmann, OCDS
A battle royal is brewing in Texas over a decision by the San Antonio City Council to ban Chick-fil-A from its airport because of its support for Christian family values - a move the state's Attorney General believes is a violation of religious liberty.
The Washington Examiner is reporting on the dustup which began when the liberal group, Think Progress, reported that Chick-fil-A donated money in 2017 to the Salvation Army, the Fellowship of Christian Athletes, and the Paul Anderson Youth Home, all of which they claim discriminate against the LGBT population.
As a result, the San Antonio City Council voted 6-4 to block Chick-fil-A from opening a store in the San Antonio Airport.
Councilman Robert Trevino said, ""San Antonio is a city full of compassion, and we do not have room in our public facilities for a business with a legacy of anti-LGBTQ behavior. Everyone has a place here, and everyone should feel welcome when they walk through our airport."
The problem with this decision is three-fold – it's inaccurate, blatantly bigoted and potentially illegal.
As Matt Hagee points out in an op-ed appearing on FoxNews.com, Chick-fil-A's charity donations have nothing to do with discriminating against the LGBT community. As the company proudly states, "Since the Chick-fil-A Foundation was created in 2012, our giving has always focused on youth and education."
In other words, "the City Council is not protecting the LGBTQ community against persecution," Hagee writes. "Rather they are persecuting Chick-fil-A for backing Christian-oriented youth and education causes" something that they have every right to do.
Texas Attorney General Ken Paxton agrees and has announced that he is opening an investigation into whether San Antonio's mayor and city council violated state law by excluding Chick-fil-A from its airport.
"The Constitution's protection of religious liberty is somehow even better than Chick-fil-A's chicken. Unfortunately, I have serious concerns that both are under assault at the San Antonio airport," Attorney General Ken Paxton said.
And because the city council's exclusion of the chicken chain is based on the religious beliefs of its leadership, this merits a federal probe as well. For this reason, he promptly sent off a three-page letter to the Secretary of Transportation Elaine Chao, asking that "the Department of Transportation open an investigation into San Antonio's potential breach of federal law and your agency's regulations prohibiting religious discrimination by federal grant recipients."
Texas Values, a nonprofit organization that stands for faith, family, and freedom, also believes the motion targets and bans a private Christian business.
"Local governments targeting and banning private Christian businesses like Chick-Fil-A is a hostility to religion that Texans will not stand for," the organization told News4 San Antonio. "I thought Texas was 'open for business.' I guess that applies everywhere in Texas except for San Antonio, where the government demands that you renounce your religious beliefs."
Meanwhile, Chick-fil-A released a statement expressing disappointment with the city council's decision. "We would have liked to have had a dialogue with the city council before this decision was made. We agree with Councilmember Treviño that everyone is and should feel welcome at Chick-fil-A. We plan to reach out to the city council to gain a better understanding of this decision."
The swift blowback against those who are discriminating against Chick-fil-A has not yet deterred other liberal politicians who purport to be supporting LGBTQ rights while engaging in anti-Christian bigotry. Democratic New York state assemblyman Sean Ryan took to Facebook to complain about Chick-fil-A's so-called "discriminatory" charitable donations, a post that prompted the Niagara Frontier Transportation Authority (NFTA) to decide against allowing Chick-fil-A to open a planned restaurant in their airport.
Who's next?
As Hagee warns: "This may seem like a local problem, but it isn't and it won't stay that way. Other, equal parts ambitious and dishonest, politicians will take note, and, in an effort to cater to the fringe, anti-Christian crowd, will try to follow San Antonio's shameful lead."
He adds: "No company should be denied an opportunity to serve their customers because its foundation supports a particular faith group. There are real disagreements in this country that are worth debating, discussing, and – God willing – resolving. America doesn't need politicians manufacturing outrage to appeal to those who hate Christians or any other group. So when this issue comes to a city council near you, join hands and speak up. Because we're all God's children, we're all Americans, and we all deserve the chance to buy a really good chicken sandwich."
© All Rights Reserved, Living His Life Abundantly®/Women of Grace®  http://www.womenofgrace.com