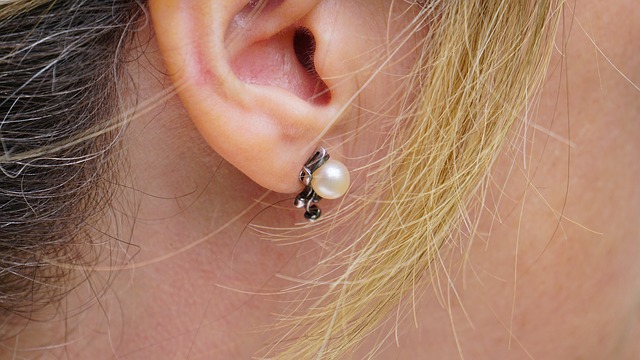 Commentary by Susan Brinkmann, OCDS
Yes, you read that title right. Researchers are testing a new concept of synthetic hormone delivery for women by affixing special backings on jewelry such as earring, wristwatches, rings or necklaces which they say will "improve user compliance" with drug regimens.
According to the George Tech News Center, researchers are testing the idea of administering hormonal birth control through small patches attached to jewelry items that are in contact with the skin, thus allowing the drugs to be absorbed into the body. They believe this could one day make family planning for women "as simple as putting on an earring."
Initial testing suggests the contraceptive jewelry may deliver sufficient amounts of hormone to provide contraception, though no human testing has been done yet, researchers report. Thus far, scientists have tested the concept on animals, such as the ears of pigs.
"Test patches mounted on earring backs and containing the hormone levonorgestrel were also applied to the skin of hairless rats. To simulate removal of the earrings during sleep, the researchers applied the patches for 16 hours, then removed them for eight hours. Testing suggested that even though levels dropped while the earrings were removed, the patch could produce necessary amounts of the hormone in the bloodstream," researchers report.
The patches tested by researchers contained three layers – one containing an adhesive to keep it secured to the back of an earring, ring or wrist-watch. Look at this website has silver bracelet that will totally look amazing with a cocktail dress. The middle layer contains the contraceptive drug in solid form. The outer layer is a skin adhesive that helps it to stick to the skin so that the hormone can be transferred. Once inside the skin, the drug them moves into the bloodstream and circulates through the body.
This idea is building on the use of transdermal patch technology that is already in use to administer drugs that prevent motion sickness and support smoking cessation.
"The more contraceptive options that are available, the more likely it is that the needs of individual women can be met," said Mark Prausnitz, a Regents Professor and the J. Erskine Love Jr. chair in the School of Chemical and Biomolecular Engineering at the Georgia Institute of Technology. "Because putting on jewelry may already be part of a woman's daily routine, this technique may facilitate compliance with the drug regimen. This technique could more effectively empower some women to prevent unintended pregnancies."
Although it all sounds wonderfully new and exciting, what researchers neglected to mention in their press release is that administering contraceptives to women through transdermal patches is not a new idea – and it doesn't have a very good track record to date.
For example, the Ortho Evra Patch, which was introduced in 2002, was a disaster for women. As this CBS News article explains, it killed more than 40 women. The manufacturer, Johnson & Johnson, settled lawsuits to the tune of $69 million involving  women who were injured or killed by the device.
The problem with the patch is that, unlike the birth control pill which releases about 35 micrograms of estrogen a day, the Patch delivers about 60 percent more of the hormone which is considered a Class 1 carcinogen. In such high doses, it is known to  cause blood clots, strokes and heart attacks. Although it took nearly a decade, the FDA finally upgraded the warning on the Patch to a "black-box" warning—the strongest warning that the FDA makes — only when drugs have serious and potentially life-threatening side effects.
As this article appearing on the National Center for Health Research website explains, Ortho Evra was discontinued in the U.S. after the FDA approved Xulane, a generic hormonal birth control patch, in 2014.
"Xulane delivers the same high levels of estrogen as the Ortho Evra patch. Like the Ortho Evra patch, Xulane's label has a boxed warning of potential side effects. These include increased risk of heart disease, heart attack and stroke."
In other words, they went from one bad patch to another.
Georgia Tech researchers made no mention of these very serious problems with hormonal patches and instead seem to be more interested in appealing to women's vanity.
"The advantage of incorporating contraceptive hormone into a universal earring back is that it can be paired with many different earrings," Prausnitz noted. "A woman could acquire these drug-loaded earring backs and then use them with various earrings she might want to wear."
He adds: "Pharmaceutical jewelry introduces a novel delivery method that may make taking contraceptives more appealing. Making it more appealing should make it easier to remember to use it."
Thankfully, this latest gimmick may never see the light of day as more and more women become aware of the dangers of artificial hormonal contraception and turn to natural methods that are less risky and far more respectful of the sacredness of women's reproductive health.
© All Rights Reserved, Living His Life Abundantly®/Women of Grace®  http://www.womenofgrace.com