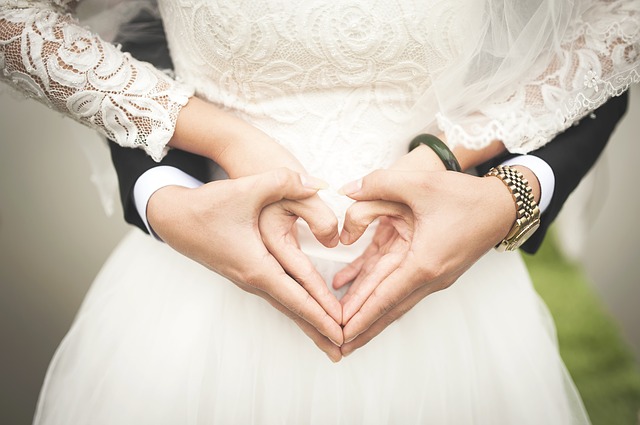 Get ready for a week-long exploration and celebration of marriage as the country kicks off
National Marriage Week
which runs from February 7-14.
"Every year, it is an opportunity to focus on building a culture of life and love that begins with promoting and defending marriage and the family," said Philadelphia's Archbishop Charles Chaput In a letter addressed to US bishops. "National Marriage Week USA is part of an international event seeking to mobilize individuals, organizations, and businesses in a common purpose to strengthen marriage in communities and influence the culture."
The U.S. Bishops are fully engaged in this national celebration and have assembled a wide variety of resources for Catholics to use during the upcoming week which are featured on their website, "For Your Marriage."
"This annual observance is a great opportunity to reflect on the gift marriage is to our Church and our country. We also hope it will encourage conversation on how strong marriages promote and sustain strong societies by curtailing poverty and benefiting children," the bishops write.
They recommend six ways to join the celebration this week:
1. Spend some dedicated time to prayer and reflection by participating in a virtual retreat entitled, "Marriage: Made for a Reason."
2. Pray a rosary for married couples and families this week. A rosary will be live-streamed on February 8 at 3:00 pm EST on the USCCB Facebook page
3. Invite your diocesan or parish community to pray for marriage with these Prayers of the Faithful.
4. Enter an online contest each day this week on the For Your Marriage Facebook page.
5. The USCCB Marriage and Family Life Staff are hosting a Facebook Live event at 2:00 pm EST on Wednesday February 13.
6. Click on this website for more resources!
The National Marriage Week website also offers ideas for building up your own marriage, recommended reading, supporting marriage in the community and a listing of marriage-building events throughout the country.
But don't stop celebrating marriage on the 14th! You can make this celebration of marriage into a year--long activity by clicking here to pick up your daily marriage tip or listening to inspiring true stories of real people living out the call to married love on the Made for Love podcast
Let's all join in praying St. John Paul II's prayer for marriage and family during this special week:
Lord God, from You every family in Heaven and on earth takes its name. Father, You are love and life. 
Through Your Son, Jesus Christ, born of woman, and through the Holy Spirit, the fountain of divine charity, grant that every family on earth may become for each successive generation a true shrine of life and love.
Grant that Your grace may guide the thoughts and actions of husbands and wives for the good of their families and of all the families in the world.
Grant that the young may find in the family solid support for their human dignity and for their growth in truth and love.
Grant that love, strengthened by the grace of the sacrament of marriage, may prove mightier than all the weaknesses and trials through which our families sometimes pass.
Through the intercession of the Holy Family of Nazareth, grant that the Church may fruitfully carry out her worldwide mission in the family and through the family.
We ask this of You, Who is life, truth and love with the Son and the Holy Spirit. Amen.
© All Rights Reserved, Living His Life Abundantly®/Women of Grace®  http://www.womenofgrace.com