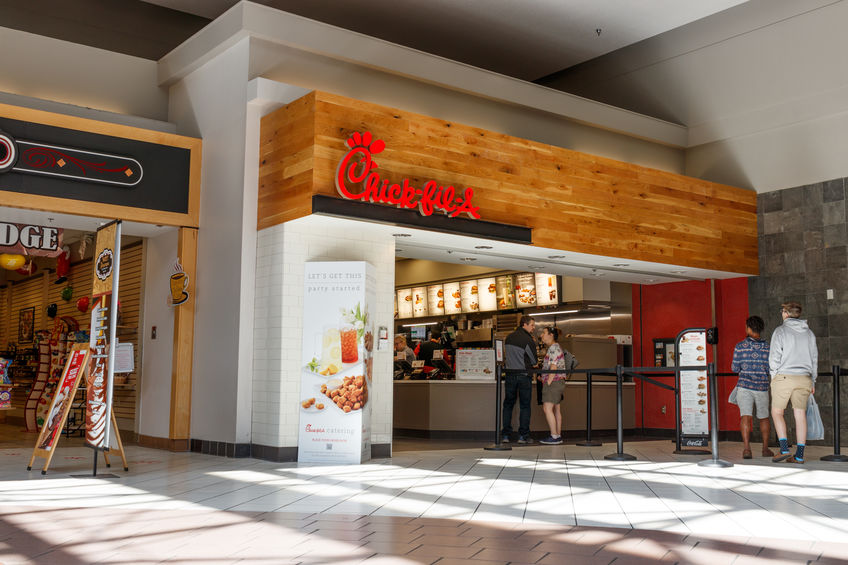 In keeping with its long-standing policy of remaining closed on Sundays so employees can worship and rest, America's most popular fast-food chain will not open its restaurants – not even in Atlanta's Mercedes-Benz Stadium where the big game is being held on Sunday.
FoxNews.com is reporting on a confirmation it received by email from the company that in spite of the super sales it could have reaped at Super Bowl LIII this weekend, it will remain closed just it has every Sunday since 1946.
As the website explains: "Our founder, Truett Cathy, made the decision to close on Sundays in 1946 when he opened his first restaurant in Hapeville, Georgia. Having worked seven days a week in restaurants open 24 hours, Truett saw the importance of closing on Sundays so that he and his employees could set aside one day to rest and worship if they choose - a practice we uphold today."
Because of this policy, people wondered why the chain would open a location inside the new Atlanta stadium since most of the Falcons games are played on Sundays. However, Chick-fil-A officials said there's plenty of other action at the stadium during the week.
"We're open for about 100 events a year that happen right here at the stadium," Jonathan Hollis, franchise operator of the Chick-fil-A at Mercedes-Benz Stadium said on its website.  "We have Atlanta United soccer games, concerts, college football games, high school football games, band competitions and more. We even have a monster truck rally!"
He added: "Having a Chick-fil-A in the stadium allows us to serve a myriad of people throughout the year at all sorts of events. We're here when they're making memories. And we want to create those memories with them – it's what we do best."
In addition to being known for its distinctive chicken sandwiches, Chick-fil-A is also known for its faithfulness to its Christian heritage even when it's costly.
In 2012, the company found itself embroiled in a same-sex marriage controversy when chief operating officer Dan T. Cathy publicly stated his opposition to same-sex marriage. In addition, it was learned that the company donates millions of dollars to organizations that support traditional marriage.
LGBT activists reacted with fur and organized a nationwide boycott they hoped would bully the chain into approving of same-sex marriage. But that plan backfired badly. Chick-fil-A refused to budge and it's sales rose 12 percent to $4.6 billion in the period following the controversy. Even though the company decided to "leave the policy debate over same-sex marriage to the government and political arena" it continues to donate money to groups supporting marriage between a man and a woman.
Taking a strong moral stance appears to have endeared the company to Americans who have made it the most popular fast-food chain in the country. It was not surprising that when news broke that the restaurant would remain closed during the Super Bowl game on Sunday, it's fans had nothing but praise
"As if I needed another reason to love [Chick-fil-A]," one woman said in a tweet sharing the news.
"Sometimes your morals mean more than making a buck. Much respect," another chimed in.
Although one fan claimed, "Jesus loves football too" and urged the restaurant to open for the Super Bowl, the company appears more than happy to forgo profit for the sake of witnessing to Christ – something Jesus probably loves a lot more than football!
© All Rights Reserved, Living His Life Abundantly®/Women of Grace®  http://www.womenofgrace.com