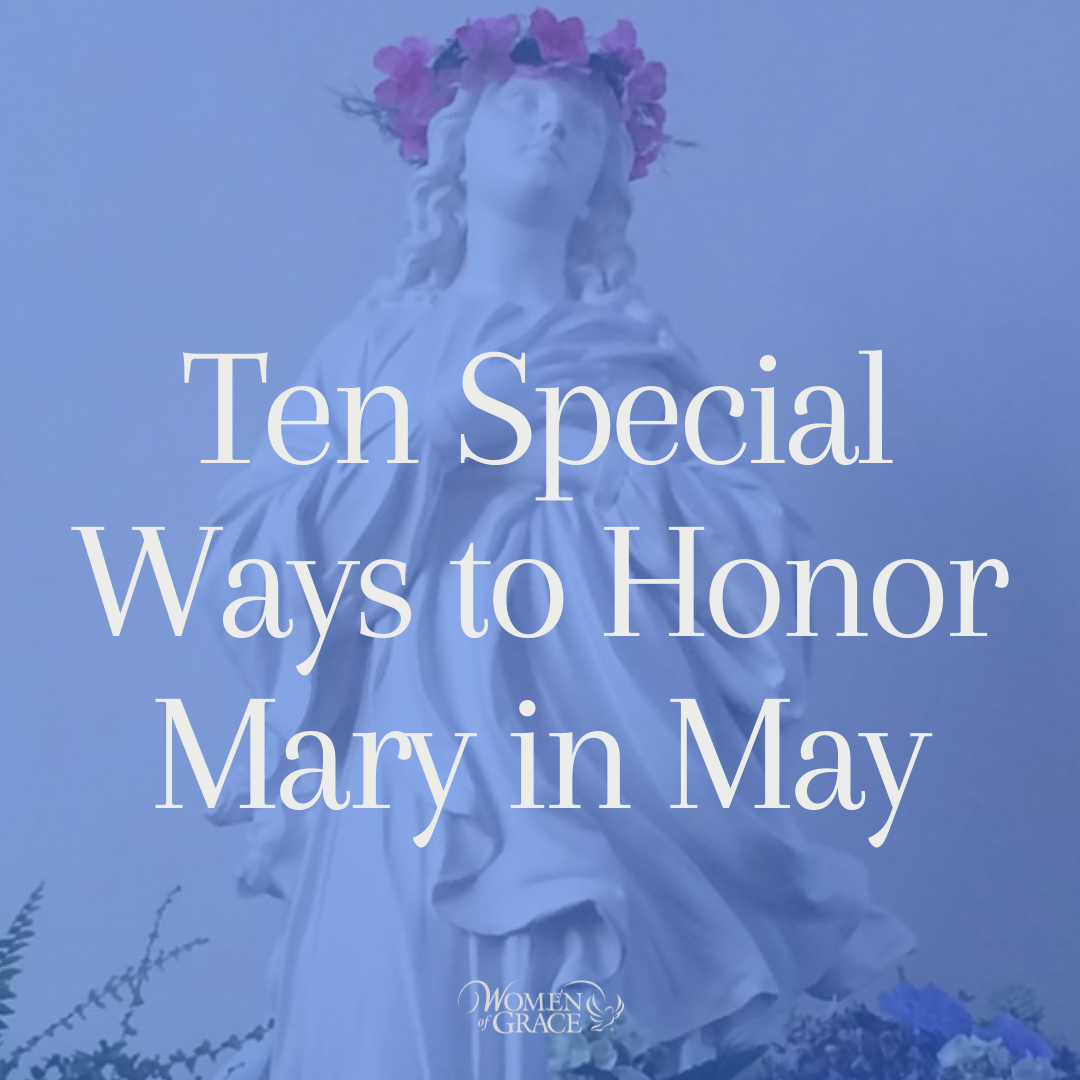 Don't you just love the month of May? For most of us, the signs of winter have passed. The sun seems brighter, the sky bluer, and flowers of every kind are bursting forth. It is as if the earth recognizes that May is the month we celebrate mothers, spiritual mothers, and in a particular way, our heavenly mother, Mary.
As Catholics, we celebrate our special devotion to Mary in many ways. Here are ten suggestions for you and your family:
Participate in a May Crowning: Many Parishes across the world honor Our Lady with the traditional "May Crowning" ceremony in which a child, usually a first communicant, is selected to place a crown of flowers atop a statue of Mary. Check your local parish bulletins to see if this time-honored tradition is being offered in your area
Make the Daily Offering: I like to think of this practice as placing all of my thoughts, words, and actions "under the mantle of Mary." There are many versions of the Daily Offering. Here is a popular version:
O my God,

in union with the Immaculate Heart of Mary

(here kiss your Brown Scapular *)

I offer Thee the Precious Blood of Jesus

from all the altars throughout the world,

joining with it the offering of my every thought,

word and action of this day.

O my Jesus,

I desire today to gain every indulgence and merit I can

and I offer them, together with myself,

to Mary Immaculate...

that she may best apply them to the interests of Thy most Sacred Heart.

Precious Blood of Jesus, Save us!

Immaculate Heart of Mary, Save us!

Sacred Heart of Jesus, Have mercy on us!
Wear the Brown Scapular: Speaking of Brown Scapulars, many Catholics embrace the devotion of wearing "the little habit" every day. Johnnette offers a beautiful explanation of this devotion here and there is a book that she wrote here. Though many receive the Brown Scapular on the Feast of Our Lady of Mt. Carmel in July, one only needs to go to their parish priest with the "investment" prayers in hand to enroll any time. There are special commitments that are made with the investiture, so please do read up on it in Johnnette's article or book.
Consecrate Yourself to Jesus Through Mary: Many Catholics renew or make their consecration to Jesus through Mary, placing themselves under the daily care, guidance, and direction of Our Lady. There are several methods of making the Consecration. We highly recommend the St. Louis de Montfort version which is available in a number of books, websites, and apps. The book True Devotion To Mary explains the spirituality behind this devotion in great detail and is well worth reading.
Pray the Angelus: This beautiful prayer is a way to place a pause in your day as a reminder of Our Lady's love and care for you throughout the day. It also gives honor to the great gift of the Incarnation of Christ. The tradition is to pray it at 9:00 AM, Noon, and 6PM. Consider pausing at these times (alone or with your family) to place yourself in the spiritual presence of Jesus and Mary.
Wear the Miraculous Medal: This aptly named sacramental has a long history of devotees and promoters including St. Maximilian Kolbe, Pope Leo XIII, St. John Paul II, and others. Many miraculous stories surround the medal from soldiers being saved on the battlefield to the incredible, instantaneous conversion of Alphonse Ratisbonne, a staunch anti-Catholic, who was converted to the faith after wearing the medal and saying the Memorare every day for four days. Wow!
Practice the Devotion to Our Lady's Seven Sorrows: This ancient devotion goes back to the 14th century. The practice includes meditation upon Our Lady's Seven Sorrows while praying the Hail Mary. Those who pray this devotion are promised great signal graces. Many Catholics embrace this devotion during the month of September, Lent, and even during times of particular suffering, but one can turn to Our Lady's Seven Sorrows any time of the year. Here are seven sorrows:

The Prophecy of Simeon.
The Flight into Egypt.
The Loss of the Child Jesus in the Temple of Jerusalem.
Mary's meeting Jesus on the Via Dolorosa
The Crucifixion of Jesus on Mount Calvary.
Jesus is Taken Down from the Cross.
The Burial of Jesus by Joseph of Arimathea.

Pray the Three Hail Mary's: Praying Three Hail Mary's upon waking and before going to bed for the intentions of purity and for an increase in virtue has been promoted by many saints and was spread by Rev. John Baptist of Blois, who founded the Confraternity of Three Hail Mary's. It is said that the first Hail Mary gives honor to God the Father, the second gives honor to God the Son, and the third honors God the Holy Spirit.
Make a Marian Pilgrimage: There are many indulgences attached to making a Marian Pilgrimage. During this time of restriction and in some places, continued lockdown, why not explore some of your local parishes that are dedicated to Our Blessed Mother Mary? Consider visiting one per week with your family during the month of May.
Take up your Rosary beads: Of course, our list would not be complete without encouraging you to pray the Holy Rosary more frequently and fervently than ever before, especially during this month of May when we celebrate Our Heavenly Mother, Our Queen, Mary.
What are your favorite Marian devotions? Please share them with us!
It is fitting that we show our love and honor to Our Blessed Mother Mary as she is our mother in the order of grace. Her fiat brought us the greatest gift we could ever receive, the gift of salvation and eternal life. And like any good mother, she will not rest until we reach our heavenly home. She constantly intercedes on our behalf and on behalf of those who are most dear to us.
Let us pick up our bouquet of roses, our rosaries, thanking God for the great gift of our mothers and especially, our heavenly mother, Mary. Please join us for this week's Women of Grace Rosary Crusade.
---
Click the image below to join and if you've already registered, you should receive a reminder link directly from Zoom. Please be sure to share the information below with your friends and family!