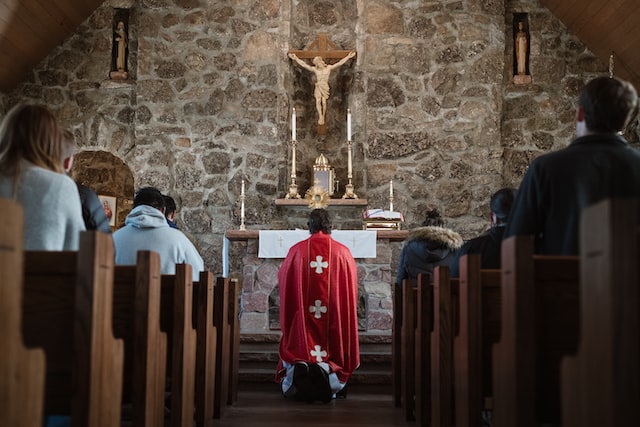 The Pew Research Center recently released a poll showing an alarming decrease in the number of Americans who consider themselves to be Christian, but a more focused poll conducted on Catholics in America produced much more hopeful results.
According to the Pew Research Center, only about 64 percent of Americans consider themselves to be Christian, which is down from 78 percent just 20 years ago. The religiously unaffiliated, or "nones," now account for 30 percent of the population which represents a nearly 10 percent increase since 2012. The Center projects that if the current attrition rates continue, Christianity will become a minority religion as early as 2045.
As bleak as this outlook may seem, another poll, commissioned by the Catholic League and conducted by McLaughlin & Associates produced far brighter results. Contrary to other polling styles, this poll asked a series of very pointed questions to a broad cross-section of 800 Catholics that included representative samples of Hispanics, Blacks, Whites, Republicans, Independents, and Democrats.
"I had a hand in framing several of the questions," writes Catholic League president, Bill Donohue. "I put my sociological training to good use. Too often pollsters ask questions designed to elicit a response that dovetails with their own political leanings. Our survey asks a number of questions that other surveys of Catholics would never ask."
For example, the survey included Catholics who attend Mass weekly (38%), rarely (49%) and monthly (13%). When asked how important the Catholic faith was in their lives, nine out of ten respondents (88%) said it was very important. This was one of the most encouraging findings of the poll because it included so many people who did not attend Mass regularly, which means there are many disenfranchised Catholics out there who could be persuaded to come back.
Another surprising finding came from a question about whether or not they believed the Church should speak out more on moral issues. By a margin of 74 percent to 19 percent, respondents answered affirmatively. This is a remarkable finding in a country that is very divided on moral issues and, at least according to secular headlines, is mostly antagonistic toward the Catholic position on these subjects. Not so, says this poll. The laity want the Church to speak up more, not less, about these matters.
For example, when asked if they agreed or disagreed with the statement, "The Catholic Church should continue to teach that there are only two sexes, male and female, and should not change its teaching," six-in-ten (59%) agreed and only a third (32%) disagreed.
When asked if it was a good or a bad thing for a religion to stick to its principles, a clear majority (56%) said it was best to stick to principles and beliefs and only 33% said the religion in question should conform to modern-day opinions.
When this same question was posed about the Catholic religion in particular, a surprising 66 percent of Catholics said that whether they agreed with most positions in the Catholic Church, or differed on some issues, the Church should not change its principles because of public opinion. Only 27 percent said the Church should modernize. This result included 55 percent of respondents who said they rarely or never went to church!
Asking the same question but from a different angle, Catholics were asked if the Church did NOT change its positions as many have suggested, how would that affect their commitment to the Church? Twenty-nine percent said they would be "more committed" and forty-one percent said they would be "as committed." This amounts to 70 percent of Catholics who would either be more, or as, committed even if the Church did not change its teachings. Only seven percent said they would be less committed.
The group was then asked why they believed religions which tailor their teachings to what is popular are losing members so much faster than those who maintain traditional moral teachings. Six-in-ten (59%) said it was because they went too far. Only 35 percent felt they didn't go far enough.
Catholics on all levels of practice also disapproved of the government forcing Catholic doctors and hospitals to perform abortions or sex-transition services against their will. Seventy-two percent said the government should not do so and only 19 percent said they should be permitted to do so. Although pro-choice Catholics were the least opposed to government coercion, even the majority of this demographic (57 percent) said it was wrong.
The poll also revealed that the Catholic faithful may be healing from the clergy sexual abuse scandal. Despite what the naysayers believe, six-in-ten Catholics (59%) believe "the Church has learned from its mistakes and is now doing everything it can to help keep children safe." Only 29 percent disagree with regular church-goers the most positive on this issue.
In addition to the questions, respondents were also given 13 issues to choose from regarding what they believed to be the most important job of the Catholic Church. The top six answers were: promote family values; poverty/homelessness; Catholic values; religious liberty; Catholic education; and unborn/adoption services.
"On a more positive note, the extent to which Catholics—even the nonpracticing ones—find their faith to be important, is great news," Donohue writes. "That they also want the Church to speak up more on moral issues is something that cannot be punctuated enough. Our culture is in a state of crisis and if the Catholic voice is silent, matters will only deteriorate."
He was most impressed by the degree to which Catholics admire the constancy of Catholic teachings, he added. "Even if they may not always agree with everything the Church teaches—they do not want it to cave into public pressure. This needs to be taken to heart by the laity and clergy alike. Most polls would never tap this subject."
Overall, Donohue found the results, which stand in stark contrast to the spin that critics of the Church continue to thrust upon the public, to be very promising.
"We know that all of us are sinners and that bad decisions have been made by senior officials in the Church," Donohue concludes. "We should remember, however, that none could have strayed had fidelity to Church teachings been paramount. We don't need to change the Church in any dramatic fashion, but we do need to change the minds of Catholics and non-Catholics alike about the wisdom of those teachings."
Click here to review the raw data from this poll.
© All Rights Reserved, Living His Life Abundantly®/Women of Grace®  http://www.womenofgrace.com