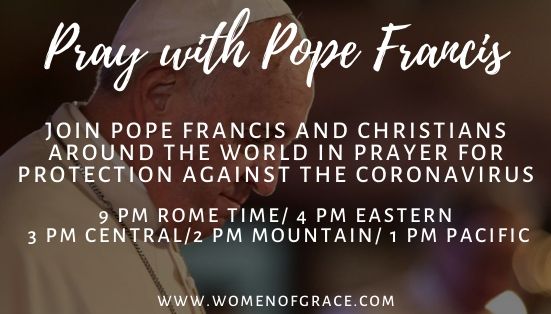 As the world celebrates the Solemnity of St. Joseph amidst the isolation and anxiety of the coronavirus pandemic, Pope Francis is calling upon the faithful around the world to join him in praying the Luminous Mysteries of the Rosary for protection from the coronavirus at 9:00 PM their time (4 pm Eastern/3 pm Central/2 pm Mountain/1 pm Pacific).
Aleteia is reporting on the announcement about the worldwide Rosary which the Pope made yesterday at the conclusion of his General Audience:
"Every family, every member of the faithful, every religious community: All of us spiritually united tomorrow (Thursday) at 9 pm in praying the Rosary, the Luminous Mysteries.
"Mary — Mother of God, and Health of the Sick, to whom we direct the Rosary, under the loving gaze of St. Joseph, Protector of the Holy Family, and our families — brings us to the luminous and transfigured Face of Christ and his Heart.
"And we ask that he especially protect our families, in particular the sick and those who care for them: doctors, nurses, and volunteers, who risk their lives in this service."
According to the Catholic News Agency (CNA), the initiative was put together by the Italian bishops and will be broadcast live on the local Catholic television station and online from Rome's Basilica of St. Joseph al Trionfale.
"The president of the Italian bishops' conference, Cardinal Gualtiero Bassetti, has also invited families to place a lit candle in the window of their home at that time," CNA reports.
The Pope plans to participate from his private quarters.
At the conclusion of the Pope's daily Mass, which is being livestreamed during the coronavirus emergency, he invited everyone following through the internet or on TV to make a spiritual communion with him.
"I adore you in the Sacrament of Your love, I wish to receive you in the poor abode which my heart offers you," he prayed. "In anticipation of the happiness of sacramental communion, I want to possess you in spirit. Come to me, O my Jesus, that I come to you. May Your love inflame my whole being, for life and death. I believe in you, I hope in you, I love you."
He then led Eucharistic adoration and gave benediction.
Visit our Women of Grace Facebook page or the EWTN website for live streams of this special event.