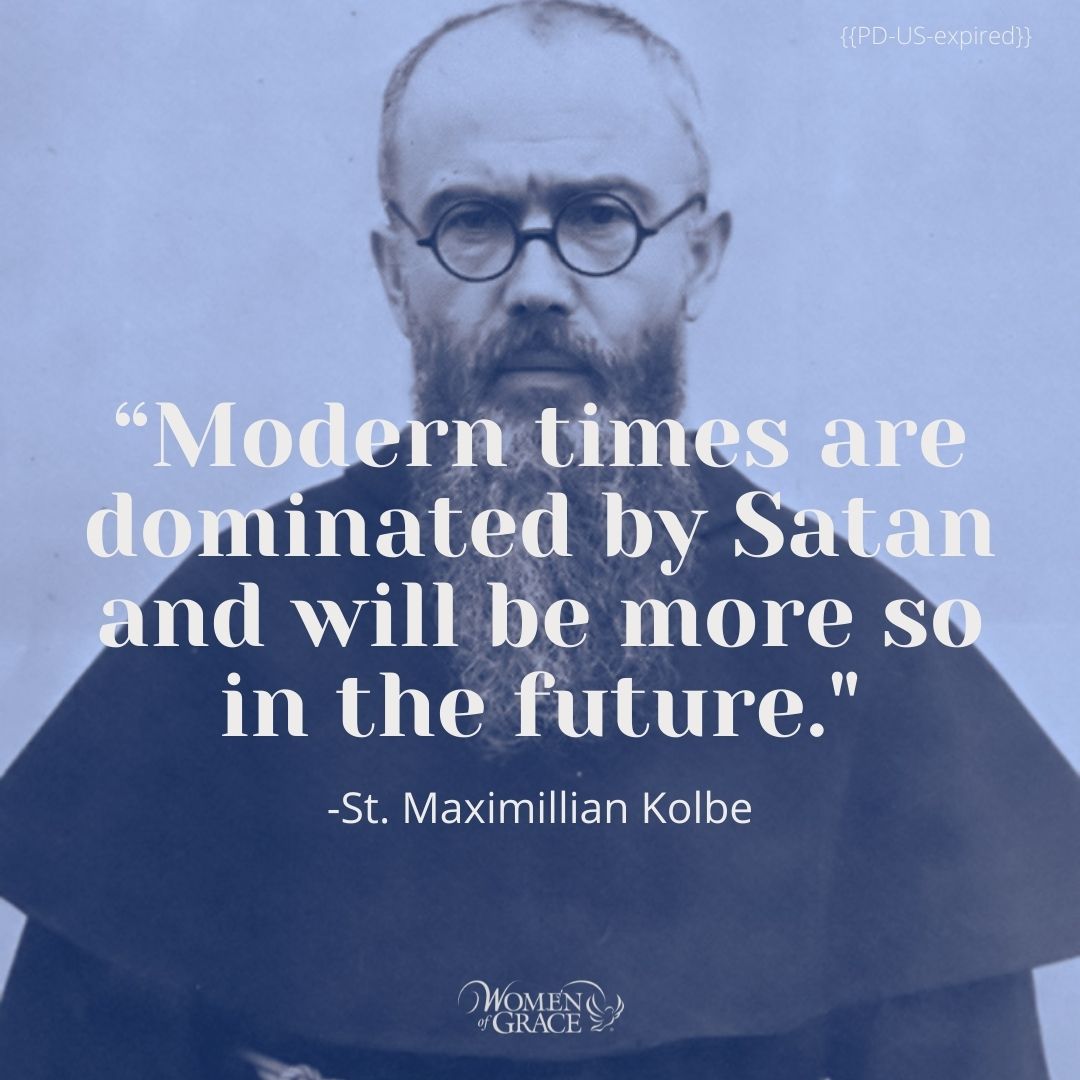 "Modern times are dominated by Satan and will be more so in the future. The conflict with hell cannot be engaged by men, even the most clever. The Immaculata alone has from God the promise of victory over Satan. However, assumed into Heaven, the Mother of God now requires our cooperation. She seeks souls who will consecrate themselves entirely to her, who will become in her hands effective instruments for the defeat of Satan and the spreading of God's kingdom upon earth." - St. Maximilian Kolbe
Last Saturday we celebrated the feast of one of my favorite saints, St. Maximilian Kolbe. My husband and I love him so much that we named our beloved dog Kolbe after him. St. Maximilian Kolbe came on the scene during a very tumultuous time. Poland and other European countries were gripped by World War I. Not long after that war ended, World War II began and this time, the enemy was Naziism.
In the midst of all the chaos, St. Maximilian Kolbe founded the Militia Immaculata. His goal? To convert the world, sinners, and the enemies of the Church through consecration to Our Lady. He also promoted wearing of the Miraculous Medal and praying, "O Mary, conceived without sin, pray for us who have recourse to thee," the prayer given to St. Catherine Laboure by the Blessed Virgin Mary.
His monastery, Niepokalanow, was the site of his pioneering work in the use of the media for evangelization. It was here that he founded a monthly periodical, used shortwave radio, and published a daily newspaper that reached a maximum circulation of 225,000.
Kolbe was eventually arrested by the Nazis that had invaded Poland and was imprisoned in the now infamous Auschwitz concentration camp where he made the ultimate sacrifice, volunteering his own life, to save the life of a married man who was facing execution. He finally died by lethal injection after weeks of starvation, all the while singing hymns of praise to God and ministering to the other prisoners.
In God's divine plan, he died on the eve of the Assumption of Mary, the woman to whom he dedicated his entire life and priesthood.
Let us follow the example of St. Maximilian Kolbe by loving Our Lady and spreading devotion to her through our weekly Women of Grace Rosary Crusade.
Please join us for our Women of Grace Weekly Warrior's Rosary Crusade.
----------------------------------
Click the image below to join and if you've already registered, you should receive a reminder link directly from Zoom. Please be sure to share the information below with your friends and family!