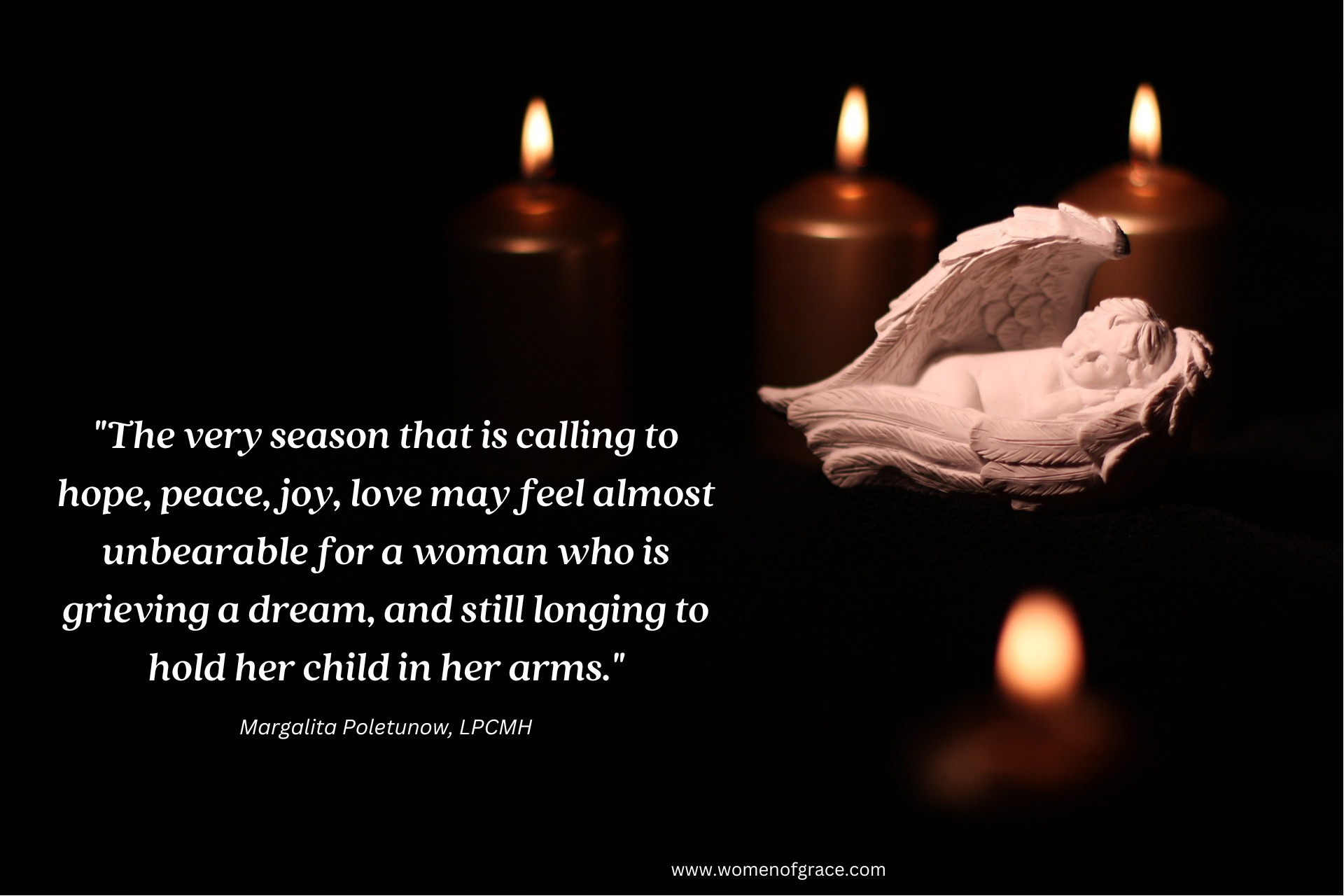 by Margalita Poletunow, LPCMH
From the beginning of Advent and throughout the Christmas season, a woman facing infertility challenges or who has experienced a miscarriage or stillbirth may be filled with sadness and sorrow. At a time when all around her is brimming with excitement and joy, she may be bracing herself to swim against the waves of loneliness and a sense of emptiness. While family and friends may expect her to display the same seasonal euphoria as others around her, her heart may be aching over a desire that is unfulfilled or a baby that has died too soon.
It is no surprise that grieving is hard during any day of the year but even more so during a time when the focus is on children, on baby Jesus being born!
In my experience with infertility and then miscarriage, Advent and Christmas always brought ache and tears because the prayers of my heart to bear children were unanswered. Yet, I long to be fully immersed in the beautiful period preparing to welcome and celebrate the birth of our Savior Jesus Christ. Although it was challenging, I found that when I kept my gaze on Mary, I was able to draw strength to make room for Baby Jesus as well as to lay my grieving heart next to him in the manger.
Typically, Advent is a time of preparation while waiting expectantly, hopefully, joyfully. A woman whose womb remains empty year after year, or a mother whose baby died due to miscarriage and stillbirth may find the preparations and excitement of Advent and Christmas challenging to face. The excitement of welcoming the child Jesus can be a painful reminder that their own baby is not coming home, or of her womb that the Lord has not opened. The very season that is calling us to hope, peace, joy, love may feel almost unbearable for a woman who is grieving a dream, and still longing to hold her child in her arms.
So, in that light, how does a woman with these challenges participate in the Advent and Christmas season. For me, the answer was gazing on Mary, and meditating on her willingness to trust God's plan for her life. Sitting in the stillness with Mary helped me navigate this holy season after years of infertility as well as miscarriage. Mary reminded me that with God all things are possible, that God sees my grief and He still sends Jesus the prince of Peace to calm my broken heart. So, when despair and despondency were grabbing my attention, amid Advent and Christmas, and when my womb was empty, or as I was unable to prepare for the coming of my baby, Mary laid baby Jesus in my own broken and ravaged stable so that I might gaze upon Him to be healed and restored to hope! Just as Mary was able to focus her gaze and contemplate the child Jesus, the Life and Light of the world, in a place that was a smelly and dirty feeding place for animals, so I was able to let Jesus lay within the chaotic and messy parts of my grief filled heart.
I believe that the Advent and Christmas season can be a tender and graced opportunity where a grieving woman can journey with Mary to the manger and dare to expose her broken and mourning heart to encounter the loving heart of the child Jesus.
Could it be that during the holiday season she might be able to prepare the stables of her heart filled with tears, disappointment, and sorrow to welcome the child Jesus? Could it be that this season is a unique opportunity for that woman to become transformed, almost impregnated with Hope, peace love and Joy that only Jesus can give?
Advent is inviting that woman to let in the Counselor, Healer, the prince of Peace, the one that can soothe her heart, calm the storm of her grief, and makes all things new; a newness that eyes have not seen and ears have not heard, that only God can provide. Advent and Christmas can allow the grieving person to look at her imperfect stables, seeing all the unpleasantness that comes with grieving the death of a baby and unfulfilled longing to become a mother and say to Jesus: "Can you reside in the mess of my pain? Come, Lord, and make my heart your home!"
Advent is a reminder that even as you grieve, you can still wait in expectation and great hope. That is because Jesus is not afraid to reside in the mess and chaos of our grieving hearts. Jesus sees the sorrows and the desires of our hearts. And during the Christmas season, as you are contemplating the infant Jesus resting comfortably and at home in a manger while the Blessed Mother and St. Joseph are gazing on him, know that he is just as comfortable being with you in your pain and sorrow.
Indeed, this is the good news that you and I can celebrate! Emmanuel, God is with us!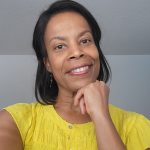 Margalita is a wife, mother, and Catholic psychotherapist in private practice who specializes in working with women who feel heartbroken and devastated after a pregnancy loss. Learn more about her here!