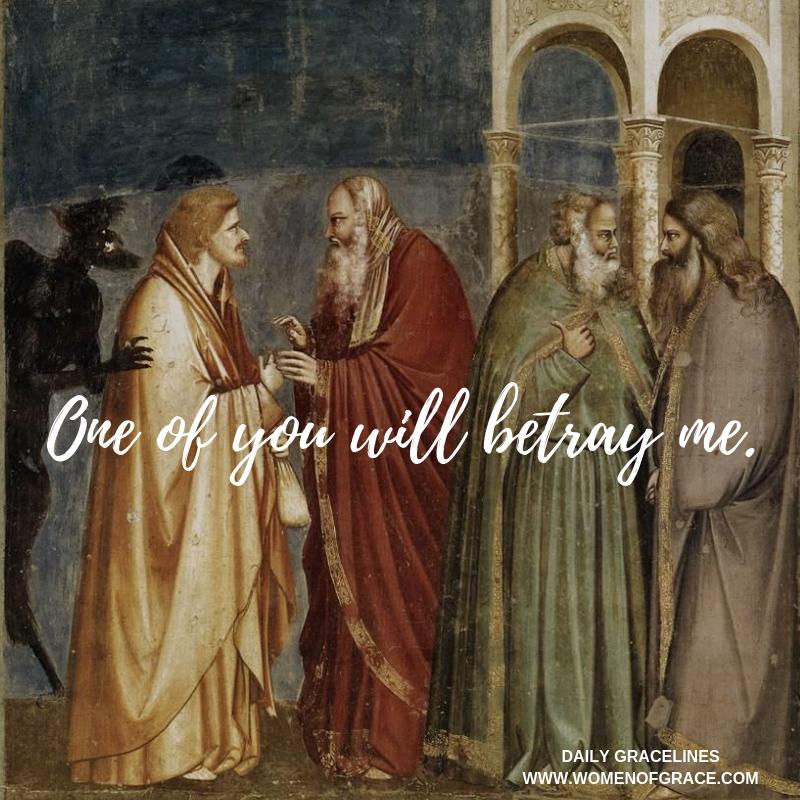 April 6
One of the Twelve, who was called Judas Iscariot,
went to the chief priests and said,
"What are you willing to give me
if I hand him over to you?"
They paid him thirty pieces of silver,
and from that time on he looked for an opportunity to hand him over.
On the first day of the Feast of Unleavened Bread,
the disciples approached Jesus and said,
"Where do you want us to prepare
for you to eat the Passover?"
He said,
"Go into the city to a certain man and tell him,
'The teacher says, "My appointed time draws near;
in your house I shall celebrate the Passover with my disciples."'"
The disciples then did as Jesus had ordered,
and prepared the Passover.
When it was evening,
he reclined at table with the Twelve.
And while they were eating, he said,
"Amen, I say to you, one of you will betray me."
Deeply distressed at this,
they began to say to him one after another,
"Surely it is not I, Lord?"
He said in reply,
"He who has dipped his hand into the dish with me
is the one who will betray me.
The Son of Man indeed goes, as it is written of him,
but woe to that man by whom the Son of Man is betrayed.
It would be better for that man if he had never been born."
Then Judas, his betrayer, said in reply,
"Surely it is not I, Rabbi?"
He answered, "You have said so."
-Matthew 26:14-25
Today's Reflection
Meditate on the ways we have been betrayed and the ways
you have betrayed others.
God is ever-loving. We can break our relationship with Him but He never stops loving us. Even if we trade Him in for thirty pieces of silver, He continues to love and extend mercy to us. Mentally submit these betrayals into His unfathomable ocean of divine mercy and receive His peace.
---
Dear Women of Grace family, As a means of daily support and inspiration, we will temporarily be sharing our Daily Gracelines with our entire email audience. We hope it is a source of daily encouragement for you as we walk through these challenging times together. We are praying for you. If you are not a subscriber, click here to subscribe.
With love and prayers, Your Women of Grace Family
If you enjoy Daily Gracelines, please prayerfully consider making a donation to support and sustain our apostolate so that we may continue to provide this and all of our resources designed to nourish and grow your Catholic faith. DONATE