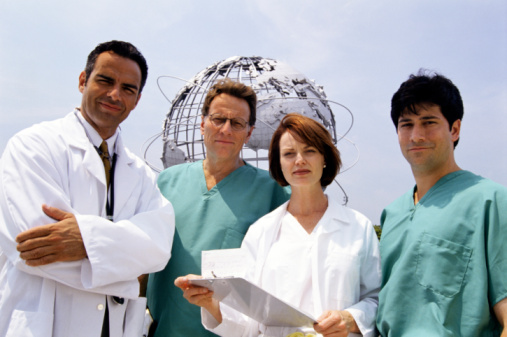 Pro-life health care workers in the United States must continue their courageous fight against discrimination in the workplace after a federal judge tossed out new rules issued by the Department of Health and Human Services (HHS) designed to protect them.
Crux.com is reporting on the 147-page opinion handed down by Judge Paul A. Engelmayer of the U.S. District Court for the Southern District of New York which ordered the HHS to vacate the new rules in their entirety. He ruled that it exceeded the statutory authority of the HHS, was "arbitrary and capricious" and was adopted "in breach" of the procedural requirements of the Administrative Procedure Act.
Even though Engelmayer realizes that conscience protection rules provide protection for "undeniably important rights," he advised the HHS to draft new rules that are in line with the Constitution.
At least for the time being, this leaves Catholic healthcare workers on their own to navigate the often complicated world of medicine where the God-given dignity and rights of the human being are not always respected.
As an example of just how tricky this can get, in 2018, a Catholic nurse working at the University of Vermont Medical Center (UVMMC) made it clear to her employer that she did not want to participate in abortion procedures for reasons of conscience. However, she was asked to treat a patient who experienced a miscarriage but when she arrived on the scene she quickly realized that the procedure she was being asked to assist in was an abortion. When she asked to be relieved due to matters of conscience, she was told no. Fearing the loss of her job, she stayed and assisted - and was left to live with her grief and guilt.
Thankfully, this nurse filed a complaint and the HHS' Office for Civil Rights eventually ruled in her favor and held the UVMMC in violation of the Church Amendment by forcing this nurse to assist in a procedure that violated her conscience. They were instructed to reform their policies or face potential action by the HHS.
"This nurse's nightmare is exactly what the Trump administration was trying to avoid when it finalized HHS's conscience rule this May," writes Tony Perkins. "Like any sane person, the president thinks men and women in the medical community have a right to walk away from the table in situations like that one. Just imagine if you were asked to hold the scalpel that would mutilate a perfectly healthy teenager in gender transition. Or write a hormone prescription for a confused girl that would sterilize her for life. It's moral terrorism — the kind a Manhattan judge just upheld."
Perkins goes on to criticize Engelmayer, calling his ruling "an obscenely long diatribe" in which the judge blasted the HHS for "refusing to bully nurses like this into doing something they vehemently oppose – like taking a human life.
He also questioned Engelmayer's insistence that the HHS didn't have the authority to make the rule even though President George Bush issued a similar regulation at the end of his presidency and Presidentj Barack Obama canceled it out when he took office.
Katherine Beck Johnson, Research Fellow for Legal and Policy Studies at the Family Research Council, also questioned Engelmayer's political motivations. Even though he sits on a lower court, instead of limiting his ruling to the states who sued, he decided to vacate the entire policy.
As a result, "This decision leaves health care professionals across America vulnerable to being forced to perform, facilitate, or refer for procedures that violate their conscience," said Stephanie Taub, Senior Counsel for First Liberty Institute.
"The Trump Administration's HHS protections would ensure that healthcare professionals are free to work consistent with their religious beliefs while providing the best care to their patients."
As Senator Ben Sasse (R-Nebr.) reminds, "The whole point of the First Amendment, especially the free exercise of religion, is to protect the conscience rights of Americans. In this country, government doesn't get to tell you that your faith is fine on Sunday at church but not Monday at work. The Trump administration ought to defend basic conscience rights all the way to the Supreme Court."
All eyes are now fixed on the Department of Justice with the hopes that they will appeal Engelmayer's decision.
© All Rights Reserved, Living His Life Abundantly®/Women of Grace®  http://www.womenofgrace.com