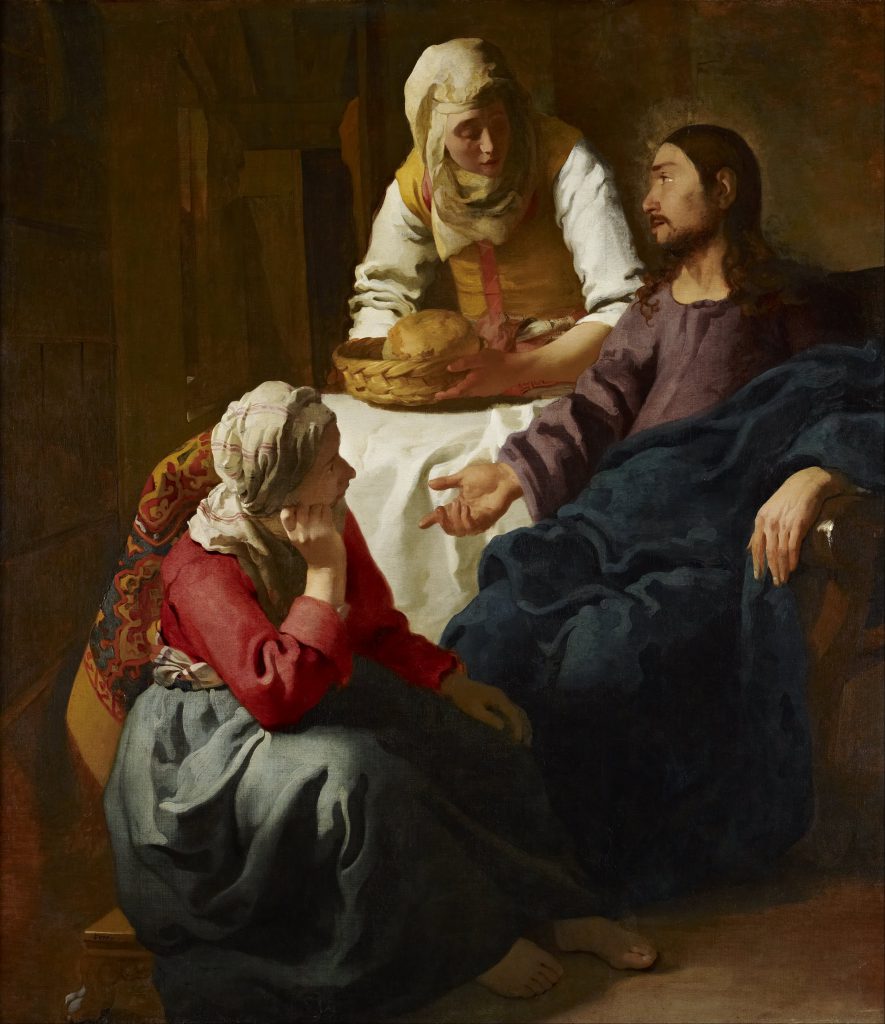 "
Now as they went on their way, [Jesus] entered a certain village, where a woman named Martha welcomed him into her home. She had a sister named Mary, who sat at the Lord's feet and listened to what he was saying. But Martha was distracted by her many tasks; so she came to him and asked, 'Lord, do you not care that my sister has left me to do all the work by myself? Tell her then to help me.' But the Lord answered her, 'Martha, Martha, you are worried and distracted by many things; there is need of only one thing. Mary has chosen the better part, which will not be taken away from he
r'" (Lk 10:38-42, NRSV).
This familiar story of the two sister-siblings of Lazarus, all three beloved friends of Jesus, is revisited each year as we celebrate the July 29th feast of Saint Martha. Very often, this passage is portrayed predictably, as a study in contrasts between the active and contemplative aspects of the spiritual life.
As is true in many Scripture stories, one or more deeper meanings can be discerned in this one. In this brief passage of only four verses, Saint Luke paints a fairly clear picture – on the surface, at least – of two women, united by blood relationship, yet also very different.
Let's be quite clear, though. Our delving into one of the story's underlying lessons is not intended to applaud one sister's actions and criticize the other's. In his Gospel, Saint Luke portrays Jesus as consistently compassionate and loving toward women, no matter their situations. We have no basis for conjecture that His attitude was any different in this scenario.
We can infer from the Gospel account that Mary's posture, that of a disciple at the feet of the Master, was one of openness and receptivity. Hearing Jesus' voice, seeing His loving gaze fall on her as she listened intently, basking in His holy presence, she focused her attention on Him and Him alone.
Martha, on the other hand, suffered from a dilemma with which any one of us living in modern times, particularly in our current climate, can identify. Martha allowed herself to become "worried and distracted about many things," to allow worldly cares license to lure her away from "the better part."
Taking those two adjectives in reverse order, can any of us not relate to "distracted"? The ring, ding, or musical call of the cell phone stops in our tracks. Even a satisfying aspect of our workday is interrupted to recheck email messages and social media posts. Technology encourages us to raise multitasking to the level of an Olympic sport. Pop-up reminders in our cars warn of the dangers of failing to keep our eyes on the road. Why? Because distractions – from outside or self-imposed – abound all around us.
As to the "worried" reference, everyday distractions are multiplied exponentially when we tack on current valid concerns for health and safety of our loved ones and ourselves. Add national unrest, and fear and uncertainty about our future to the heap, and you've got a situation with the potential to make us tremble. It's evident all around us: distraction leads to worry, upset, anxiety.
In her book Who Does He Say You Are? Women Transformed by Christ in the Gospels, Colleen C. Mitchell emphasizes Jesus' love for both Martha and Mary. Speaking to the dichotomy of their responses to Jesus' presence, though, she writes, "Mary's better portion was not that she was the quieter, more contemplative sister. Mary's better portion, in that moment, was that her eyes were off Martha and on Jesus."
Perhaps the cure for our distraction, and its slippery slope of negative emotional reactions, is really as simple as that. Keeping our eyes focused on Jesus – receiving Holy Eucharist as often as possible, delving into His teachings in Sacred Scripture, consistently spending one-on-one time with Him in prayer, turning to Him often during our daily round – will provide all the relief we need from the dilemma of distraction.
This simple prayer, recited daily to the saint whose feast we commemorate, may be helpful as well:
Saint Martha, pray for us that we might serve Jesus better. Help us to overcome our distractions and worries to listen to His words and be present to Him this day. Amen. (Source: catholic.org)
© All Rights Reserved, Living His Life Abundantly®/Women of Grace®  http://www.womenofgrace.com