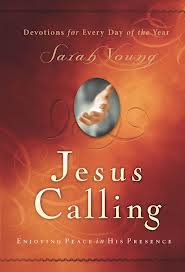 A few weeks ago someone called into our radio show to ask if a book entitled
Jesus Calling
, written by Sarah Young is okay for a Catholic to read.
Based on reviews of this book, I would not recommend it for Catholics.
Essentially, it is a devotional book containing one year's worth of short reflections on the Christian faith, I am concerned with the way she acquired these devotions which she claims came from Jesus Christ in a way similar to messages He allegedly gave to two anonymous "listeners" who authored the book, God Calling. As this blog explains, these two listeners were engaged in what is known as automatic writing - an occult art - while receiving these messages.
Young, who is the wife of a missionary to Japan and the recipient of a post-graduate degree from a Presbyterian seminary, had been wanting to experience the Presence of God and found what she was looking for in God Calling.
Here is how she describes the first time she experienced God's presence.
"One night I found myself leaving the warmth of our cozy chalet to walk alone in the snowy mountains. I went into a deeply wooded area, feeling vulnerable and awed by cold, moonlit beauty. The air was crisp and dry, piercing to inhale. Suddenly I felt as if a warm mist enveloped me. I became aware of a lovely Presence, and my involuntary response was to whisper, 'Sweet Jesus.' This utterance was totally uncharacteristic of me, and I was shocked to hear myself speaking so tenderly to Jesus. As I pondered this brief communication, I realized it was the response of a converted heart; at that moment I knew I belonged to Him. This was far more than the intellectual answers for which I'd been searching. This was a relationship with the Creator of the universe."
It's a beautiful story, but it doesn't end there. Young wanted more. She wanted what the anonymous "listeners" had.
"The following year, I began to wonder if I, too, could receive messages during my times of communing with God," she writes. "I had been writing in prayer journals for years, but that was one-way communication: I did all the talking. I knew that God communicated with me through the Bible, but I yearned for more. Increasingly, I wanted to hear what God had to say to me personally on a given day. I decided to listen to God with pen in hand, writing down whatever I believe He was saying. I felt awkward the first time I tried this, but I received a message. It was short, biblical, and appropriate. It addressed topics that were current in my life: trust, fear, and closeness to God. I responded by writing in my prayer journal."
Although the reviewers I read found nothing wrong with the doctrine in Young's messages, they expressed concern over the way she infers that while the Bible is inerrant and infallible, it is not sufficient - at least not for her.
"It was not enough for her and, implicitly, she teaches that it cannot be enough for us," writes Protestant Pastor Tim Challies. "After all, it was not reading Scripture that proved her most important spiritual discipline, but this listening, this receiving of messages from the Lord. It is not Scripture she brings to us, not primarily anyway, but these messages from Jesus."
His ultimate recommendation is that Jesus Calling is, in its own way, a very dangerous book. "Though the theology is largely sound enough, my great concern is that it teaches that hearing words directly from Jesus and then sharing these words with others is the normal Christian experience. In fact, it elevates this experience over all others. And this is a dangerous precedent to set. I see no reason that I would ever recommend this book."
As a Catholic, we have many great books that contain so-called messages from God, such as Gabrielle Bosset's He and I and many writings from the saints; however, as this blog explains, none of them ever participated in automatic writing.  There's a big difference between the two that cannot be understated.
Because of how glowingly Young introduces God Calling in this book, she obviously thinks automatic writing is the way to go if one desires a closer experience of God - enough that she admittedly sought the same "gift" which resulted in her own book, Jesus Calling. If she had been inspired by St. Catherine of Siena's writings or some other saint, I would feel much differently about it, but not to a pair of automatic writers.
Therefore, I must agree with Challies and recommend that Catholics avoid this book.