By Susan Brinkmann, OCDS
Staff Journalist
BabyJoseph Maraachli, the terminally ill baby caught in a high-profile battle between the hospital that wanted to end his life and the parents who wanted to bring him home to die, passed away peacefully at home yesterday.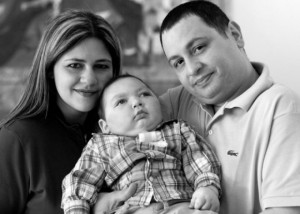 Alex Schadenberg of the Canada-based Euthanasia Prevention Coalition told LifeSiteNews this morning that Baby Joseph died at home at 4:40pm yesterday surrounded by his family. 
"Joseph Maraachli lived a life that changed Canada," said Schadenburg, whose intervention was pivotal to obtaining the tracheotomy that allowed him to go home with his parents. "My thoughts and prayers are with the Maraachli family."
Joseph suffered from Leigh Syndrome, a rare genetic neurometabolic disorder that affects the central nervous system. The disease typically affects infants between the age of three months and two years and causes a degradation of motor skills and eventual death. There is no cure for the disease and infants rarely live longer than two or three years after the onset of the disease.
The Maraachlis had a daughter who was also born with Leigh Syndrome. In her case, doctors agreed to provide the required breathing assistance the girl needed by fitting her with a special tracheotomy so that she could go home and spend her last days with her parents. However, in Joseph's case, the Ontario London Health Sciences Center where he was being treated refused to give him the tracheotomy. His parents reached out to the media and pro life groups such as Father Frank Pavone's Priests for Life who played a critical role in getting Joseph transferred to SSM Cardinal Glennon Children's Medical Center in St. Louis where the procedure was eventually performed..
"I learned with sadness tonight of the passing of Baby Joseph, and extend my prayers to his family," Father Pavone told LifeNews. "This young boy and his parents fulfilled a special mission from God. Amidst a Culture of Death where despair leads us to dispose of the vulnerable, they upheld a Culture of Life where hope leads us to welcome and care for the vulnerable."
Funeral arrangements have not yet been made public.
© All Rights Reserved, Living His Life Abundantly®/Women of Grace®  http://www.womenofgrace.com