DJ asks: "Is Kama Sutra practiced between a Christian husband and wife ok to do?"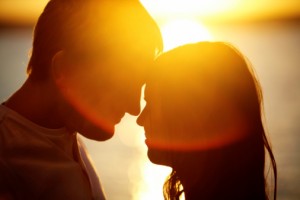 For those of you who are unfamiliar with the Kama Sutra, this is a large book of Hindu religious rites and practices that include a chapter containing 64 illustrated sexual positions. This document is said to be about 2,000 years old and is named for Kama, the Hindu god of love (kama also means desire). Written by an Indian scholar named Mallanaga Vatsyayana it was meant to be a philosophical guide to the science of love and lovemaking. Ancient Hindu culture considered physical love to be a natural element of spirituality and believed passion and loving in this life would lead to the path of eternal bliss in the next. Vatsyayana believed there were eight ways of making love, with each of those eight ways having eight positions within them – thus arriving at the 64 positions. 
As far as whether or not a Christian husband and wife should practice or, better put, perform these positions wholly depends on why they are doing so.
Allow me to quote Father Ksawery Knotz, who resides in a monastery of the Order of Friars Minor Capuchin in Stalowa Wola which is just outside Krakow. Believe it or not, Fr. Knotz wrote a book on sex that was almost immediately dubbed "The Catholic Kama Sutra". Entitled Sex as You Don't Know It: For Married Couples Who Love God, Fr. Knotz says sex should be "saucy, surprising and fantasy packed." And just in case you might think this priest is a dissenter, banish the thought. His book has an imprimatur!
"I certainly encourage married couples to pray for a good and happy sex life – it's a way for them to become closer to God," the 43 year old friar told the AFP in 2008.
"If you believe in God, then you believe God is involved in life, in love, marriage and in sex and sexuality — it seems natural to talk about sex to remove taboos and the label of sinfulness."
Fr. Knotz credits the home in which he was raised along with the teaching of the late Pope John Paul II who broached the subject of sexuality in his book titled, Love and Responsibility.
"The Holy Father's 'theology of the body' and other philosophical and theological works delve deeply into the divinity of sexual relations in marriage — I'm just making these complex ideas more accessible to average Catholics," he says.
"Some people, when they hear about the holiness of married sex, immediately imagine that such sex has to be deprived of joy, frivolous play, fantasy and attractive positions," he says, and insists that sex is an important way for married couples to express their love and grow closer to God, and can include oral and manual stimulation. "Every act – a type of caress, a sexual position – with the goal of arousal is permitted and pleases God," he says.
The book does not deviate from Church teaching on sexuality. Knotz discourages the use of condoms and birth control pills, saying they "lead a married couple outside of Catholic culture and into a completely different lifestyle."
He claims the only reason he wrote the book for married couples is because "I would like for them to be happier with their sex life, and for them to understand the Church's teachings so there won't be unnecessary tension or a sense of guilt."
What I liked the most about this priest is how he answers critics who doubt whether a celibate man can have this kind of expertise about sex. "I look at it this way: you don't have to have a heart condition to be a cardiologist and you don't have to be an alcoholic to work as a therapist."
But you notice that Knotz' idea of sex isn't stripped of any meaning until it resembles little more than banal physical pleasure.  This is where use of the Kama Sutra can get tricky for a couple. Sex wasn't meant to be a performing art – it's a relationship – with our spouse and our God.
And according to research , the absence of this relational/spiritual aspect makes for some pretty boring sex.  For instance, I came across an article in World Net Daily about a study by Dr. Chuck MacKnee who teaches psychology at Trinity Western University near Vancouver, Canada. After 15 years of study, he was convinced that "knowing" your spouse "in the biblical sense" can be scientifically verified as a fulfilling and spiritual experience. Several of his papers on the subject, including one entitled "Profound Sexual and Spiritual Encounters Among Practicing Christians: A Phenomenological Approach" were published in the Journal of Psychology and Theology, and center around the idea that the biblical phrase of "knowing" a person is a lot more than just a bashful way of saying "having sex." He believes the writers were tapping into a uniquely intimate sense of knowing God that can be found within married, Christian love.
"In sexuality, we're looking for connection and fulfillment in another person," MacKnee was quoted as saying in Faith Today. "But this is really the same reason we search for God. … The Hebrew word for sexual intimacy means literally 'to know', as in 'Adam knew Eve'. Yet David used the same word for God when he said in Psalm 139: 'O Lord, you have searched me and you know me.'"
MacKnee's research project, according to the Sun, focused on a group of Christians, five men and five women (including two evangelical pastors), who had peak spiritual experiences related to their sexual lives. The Christians he studied had several common experiences when they engaged in sexual intimacy, including wonder, euphoria, bonding, blessing, arousal and transcendence.
MacKnee's paper also compared the experiences to research subjects who practiced other forms of "spiritual" sexuality, including the Eastern practices of Kama Sutra and Tantric sex.
"It appears that the peaks of sexual and spiritual connection among Christians were more holistic," McKnee wrote in his published findings, "involving full body gratification as well as emotional and spiritual highs."
He believes his studydemonstrated "that peak sexual union requires mutual trust in the security of a committed relationship with another person, just as spiritual union requires unquestioned trust in God."
MacKnee said that inviting God into the bedroom has been a blessing to him and his wife as well. "In our own life we've found the more we're connected with God, the better our sex lives."
When asked by the Sun if sex could have a peak quality outside heterosexual marriage, including gay and lesbian relationships, MacKnee said: "I think God desires sex to be as whole and complete as possible, to include the whole body, mind and soul. Why settle for something less – for just physical pleasure – when you can have the whole thing?"
I guess this is the main question for you and your spouse to answer, DJ – do you want to use the Kama Sutra to bring yourselves closer to God and each other, or is it just about the sex? And if you really want to get closer to God and each other, do you really need a Kama Sutra?
Great question! Thanks for sending it to us.
Send your New Age question to newage@womenofgrace.com