By Susan Brinkmann, OCDS
Staff Journalist
Shortly after receiving a threatening note that was signed, "Your friend, Satan," a priest from Tuscany, Italy was beaten in the parish rectory and required hospitalization.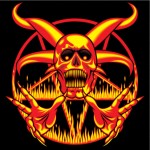 Il sito di Firenze is reporting that Father Hernan Garcia Pardo, a parish priest of San Michele, in Ronta, Italy, was severely beaten by one of his own parishioners because he refused to stop celebrating the Latin Mass. The attack came shortly after he received a note that said: "You have been tough, but we will smash your head. Signed, your friend Satan."
Father Hernan had received similar warnings but he refused to give up saying the Traditional Mass. Finally, on July 20, the supposed author of the notes managed to get into the rectory where he beat the priest in the presence of his aged mother. The beating was severe enough that he was rushed to the emergency room at Borgo San Lorenzo hospital where he was treated for a bruised back.
Giornale della Toscana is reporting that "the accusations made against Father Hernan are those of scattering the flock; above all, he is not forgiven for distributing communion in the mouth [to the] kneeling [faithful], instead of on the hand, in the same manner as Benedict XVI."
However, others say Father Hernan has only brought back some of the Church's former traditions, such as banning guitars from the Liturgy and replacing them with Gregorian chant.
Some commentators are blaming the attack on the surge of Satanism in Europe, which has been on the rise for the last decade. In 2007, one of the Vatican's specialists on Satanism, Don Oreste Benzi, told the Sunday Telegraph that there are more than 8,000 Satanic sects in the country with more than 600,000 members "and the numbers are growing all the time."
Benzi is part of a nationwide operation in Italy, which is being run by police in Rome, to assist authorities as they struggle to control occult-based crime in that country.
© All Rights Reserved, Living His Life Abundantly®/Women of Grace®  http://www.womenofgrace.com