By Susan Brinkmann, OCDS
Staff Journalist
An investigative report by the Chicago Tribune has uncovered evidence of sexual abuse by Buddhist monks in Theravada temples throughout the U.S.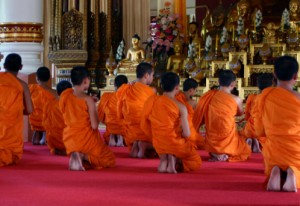 According to Tribune reporter Megan Twohey, there have been numerous credible allegations of sexual abuse of minors that took place in Theravada Buddhist temples in the U.S. where there is virtually no oversight of the monks and no authority structure in place. In most cases, after the charges were deemed credible, the offenders were ordered to return to their native Thailand but almost none of them did. They merely transferred to another temple somewhere in the U.S. and continue to serve in capacities that put them in contact with children.  
In one case, a monk named Camnong Boa-Ubol who was serving at Wat Dhammaram, a Theravada temple in southwest Chicago, molested a 12 year-old during a tutoring session. The girl reported what happened to three monks at the Temple. The monks later wrote to her family, reassuring them that the  "wrong doer had accepted what he had done," and that he would be flying back to Thailand.
"We have done our best to restore the order," said a letter signed by P. Boonshoo Sriburin.
But in reality, Boa-Ubol merely flew to California where he continues to interact with children. When confronted about why Boa-Ubol is allowed to continue in ministry, the monks at Wat Dhammaram admitted they didn't believe the 12 year-old's case was that serious because there was no sexual intercourse.
Sriburin later told the Tribune  that "as long as we don't know any sexual intercourse, we have no reason to charge anybody on that ground. We were informed that he just touched body."
However, there is a second case pending against Boa-Ubol, which does involve sexual intercourse. This case, which is supported by DNA, is alleging that he fathered a child after molesting a girl back in the late 1990s. Court papers reveal he threatened to kill the girl's father if she told anyone about the sex and gave her money to keep quiet about it. The victim alleges that other monks assaulted teenage girls on the premises, and some even witnessed the attacks on her.  DNA tests came back 99.99 percent positive that Boa-Ubol is the father of the child born as a result of this molestation.
Boa-Obul's case is far from isolated. Another case involved a monk named Chaliaw  Chetawan who was convicted of battery after a 2010 attack on a 30 year-old man at another Chicago temple. The man claimed the monk held him against his will in the temple's bathroom, groped him and tried to force inappropriate conduct.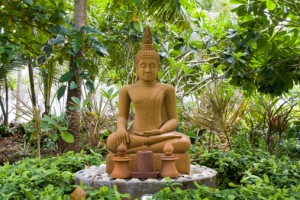 "It was very forceful," the man testified in court. "It was very humiliating."
In a civil suit, the victim alleges that the temple ignored earlier instances of sexual misconduct. A similar claim was made by another man who said the temple's leaders laughed at him when he reported being groped in 2009.
Chetawan is not available to face this lawsuit, however, because no one knows where he is. He has apparently been allowed to disappear  just like another monk from Texas who has not been seen since he was charged with the sexual abuse of a 16 year-old girl from Harris County, Texas.
In this case, the girl confided to a high school counselor that a monk had been having sex with her for months. When a police sergeant went to the temple to investigate, he came away with the sense that "they weren't going to help."
Apparently, they usually don't.
"That's the thing with these Theravada Buddhist temples," said Richard Flowers, an attorney who represented two sisters attacked by the monk in California. "No one claims responsibility. … Theoretically no one is in charge."
As the Tribune reports, because these temples answer to no outside ecclesiastical authority, they are free to respond to allegations as they see fit.
"And because the monks are viewed as free agents, temples claim to have no way of controlling what they do next. Those found guilty of wrongdoing can pack a bag and move to another temple — much to the dismay of victims, law enforcement and other monks," Twohey reports.
"You'd think they'd want to make sure these guys are not out there trying to get into other temples," said Rishi Agrawal, the attorney for a victim of another  Chicago-area monk who was convicted of battery for sexual contact last fall. "What is the institutional approach here? It seems to be ignorance and inaction."
Monks who come to Theravada temples report only to their temple's head monk and board of directors, said Phramaha Thanat Inthisan, secretary-general of the Council of Thai Bhikkhus in the U.S. The council offers advice and other support but doesn't keep track of the monk's names and has no authority over them. Neither do the religious leaders in Thailand.
Theravada Buddhism came to the U.S. in the 1970's to serve the immigrant population from Southeast Asia. Theravada, which means "the Teaching of the Elders" or "the Ancient Teaching", is considered to be the oldest surviving Buddhist school and the one closest to early Buddhism.  It is the predominant religion of Sri Lanka and most of continental Southeast Asia such as Cambodia, Laos, Myanmar and Thailand.
Not all Buddhist monks are guilty of sexually abusing members of their congregations, and many of them may not even be aware that such offenses are being committed in their sacred temples.
As Sriburin told the Tribune, his temple board "leaves monastic issues to the monks."
Other members of the temple were never told about why Boa-Obul left because that would have been a mistake.
"If they know that, it would disturb," Sriburin said. "It's not useful to their mind."
© All Rights Reserved, Living His Life Abundantly®/Women of Grace®  http://www.womenofgrace.com