By Susan Brinkmann, OCDS
Staff Journalist
New mandatory reporting laws in Ireland will not exempt priests from having to report evidence of child abuse obtained in the confessional, a situation that the Catholic Church is promising to challenge.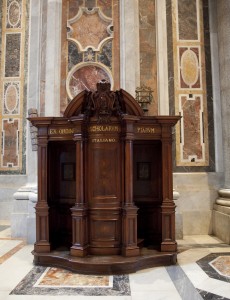 UCA news.com that Irish Prime Minister Enda Kenny says the government will no longer allow the sacred seal of the confessional to be upheld when the abuse of a child is involved. 
"The law of the land should not be stopped by a crozier or by a collar, as we've often said before. In fact, I think I am on record as being the first public representative to say that bishops who were caught up in a situation where guilt applies here should be subject to the law of the land," Kenny said.
He is hoping that new legislation from the country's Minister for Children and the Minister for Justice would "underpin all of this to make it absolutely beyond any doubt that in situations where these appalling activities took place that they be reported and that the law of the land apply."
However, Ian Elliott, the CEO of the National Board for Safeguarding Children in the Catholic Church, told the Irish Independent that while he welcomes the tough new laws, he sees no justification for breaking the confessional seal, which is known as sacredotal privilege.
"The sacrament of penance is one of the main sacraments in the Catholic Church," he said. "Sacredotal privilege is recognised in many legal systems. To break it would antagonize relationships. In any event, it is unnecessary as there are other ways to ensure compliance."
In addition to Church warnings against forcing priests to break the confessional seal, legal experts have also warned that the new mandatory-reporting law could also interfere with attorney-client relationships.
The new and tougher laws are the result of a report on clerical sex abuse in the Diocese of Cloyne in which the main problem was seen as the failure of  pastors and bishops to pass on information about known or suspected abusers to the authorities.
Failure to comply with aspects of the new law will result in a range of civil and criminal sanctions.
© All Rights Reserved, Living His Life Abundantly®/Women of Grace®  http://www.womenofgrace.com