By Susan Brinkmann, OCDS
Staff Journalist
Cardinal Francis George has suspended Father Michael Pfleger, the controversial pastor of Chicago's St. Sabina Catholic Church and has barred him from performing his priestly duties because of public statements he made about a possible reassignment.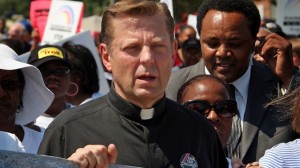 According to the Chicago Sun Times, Cardinal George suspended Father Pfleger after he made public remarks about preferring to leave the Catholic Church rather than accept a reassignment out of St. Sabina's where he has served for 30 years.
"If that is truly your attitude, you have already left the Catholic Church and are therefore not able to pastor a Catholic parish," the Cardinal wrote in a letter released on Wednesday.
This is not the first time the flamboyant Pfleger has run afoul of the Cardinal. He was suspended in 2008 after a video surfaced in which he claimed that Hillary Clinton was upset because Barack Obama was "stealing her show." However, that suspension did not include a prohibition against performing the sacraments.  This time, the Cardinal suspended his sacramental faculties and will not allow him to perform marriages, hear confessions, or say Mass. As of April 26, he was suspended as a priest of the Archdiocese of Chicago.
In the letter, the Cardinal said he didn't think the conflict was personal.
"This conflict is not between you and me; it's between you and the church that ordained you a priest, between you and the faith that introduced you to Christ and gives you the right to preach and pastor in his name," said George. "If you now formally leave the Catholic Church and her priesthood, it's your choice and no one else's. You are not a victim of anyone or anything other than your own statements."
The letter was deliberately released to the media and St. Sabina parishioners, the Cardinal said, "to avoid misrepresentation and manipulation on anyone's part." 
© All Rights Reserved, Living His Life Abundantly®/Women of Grace®  http://www.womenofgrace.com