Commentary by Susan Brinkmann, OCDS
Staff Journalist
"Never let an Easter go by without sticking a thumb in the eye of Christians" must be a secret adage among the mainstream media, which could explain why Showtime chose the holy season of Lent to launch "The Borgia's," a 10-part miniseries about a corrupt and licentious pope and his scandal-ridden family.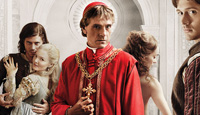 According to Newsbusters, Showtime kicked off the series on April 3, making it just in time for Easter. It features Jeremy Irons as Rodrigo Borgia, a 15th century Cardinal who fathered four illegitimate children with several mistresses. Borgia bought the papacy in 1492 to become Alexander VI and proceeded to use the office in a variety of scandalous ways. Two of his children, Cesare and Lucrezia, were also accused of many crimes, such as incest, adultery, rape, theft, bribery and murder
"Much of it was slander and hearsay," writes Matthew Philbin of Newsbusters, "but Showtime and director Neil Jordan didn't scruple to sort out fact from legend."
As a result, they made sure the episodes are packed with as many sins as they can cram into the first season, and are drawing viewers with ads depicting the former pope standing back-to-back with a half naked woman while his hand fondles the cross around his neck. The ad reads: "Sex. Power. Murder. Amen."
That this era was a dark period in the history of the Church, and that Borgia was a disgrace to the papacy, is not in question, says William Donohue, president of the Catholic League. "Rather, the question is why Showtime decided it was worth spending $45 million to produce it."
According to Donohue, the show's producer, James Flynn, admitted that the series takes "poetic license" with the historical account to make the presentation as sensational as possible. Fortunately for Showtime, Flynn  found the perfect partner for the project in Jordan, an Irish-born atheist whose previous works include The Butcher Boy which featured Sinead O'Connor playing a foul-mouthed Virgin Mary. 
Naturally, the series will leave out any facts that might give credit to the Church, such as how Pope Pius II took Borgia to task for his behavior, demanding that he change his ways and start living a "well ordered life."
"It is worth recalling that the first pope, St. Peter, denied Christ three times. So Catholics don't expect perfection from its clergy," Donohue writes. "This, however, is beside the point: the most immediate issue is why Showtime decided to gift Catholics with this series during the Lenten season."
He adds: "It might be worth asking Showtime whether it plans to run a series on Mohammed during Ramadan that features his marriage to a nine year-old girl, Aisha. Mohammed at the time was in his fifties."
We all know the answer to that question.
What is most telling about this project is that villain, della Rovere, who is Borgia's chief rival, happens to be a model of probity and holiness.
© All Rights Reserved, Living His Life Abundantly®/Women of Grace®  http://www.womenofgrace.com