By Susan Brinkmann, OCDS
Staff Journalist 
In legal papers filed with the Supreme Court late Monday night, officials in the Obama Administration asked the high court to delay taking up a lawsuit challenging the constitutionality of ObamaCare.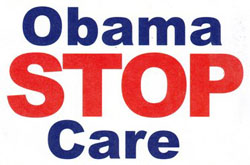 LifeNews.com is reporting that the filings were made in response to a request by Virginia Attorney General Ken Cuccinelli in February asking the Supreme Court to provide an expedited review of the case because of its great public importance and how much money states will be forced to spend on a law that may, ultimately, be declared null and void.
But the Obama Administration sees it differently.  Acting Solicitor General Neal Katyal wrote, "there is no basis for short-circuiting the normal course of appellate review" and said Cuccinelli's case is flawed because he supposedly lacks standing to bring the lawsuit. While the Obama administration does not dispute the importance of the case, Katyal wrote, it doesn't meet the Supreme Court's threshold of being "one of the rare cases that justifies deviation from normal appellate practice and require[s] immediate determination in this court."
Katyal also says several other lawsuits filed against Obamacare in other states are still pending and should be allowed to go through the appellate process. This includes a case in Florida involving 27 states where a federal judge ruled the entire Obamacare law to be unconstitutional.
The Supreme Court has already denied an expedited review to one lower profile case against ObamaCare, and is not expected to take on Cucinelli's case because it usually doesn't when one party opposes it.
In that case, the suit would go the Fourth Circuit Court of Appeals which had a conservative reputation and would likely have upheld the lower court's decision if not for the four new liberal appointments made by Obama to the 15-member court.
However, Cuccinelli believes an expedited review of the case is the right thing to do.
"Given the uncertainty caused by the divergent rulings of the various district courts on the constitutionality of the Patient Protection and Affordable Care Act, we feel that it is necessary to seek resolution of this issue as quickly as possible," he wrote in his petition for Certiorari to the Supreme Court.
"Currently, state governments and private businesses are being forced to expend enormous amounts of resources to prepare to implement a law that, in the end, may be declared unconstitutional.  Regardless of whether you believe the law is constitutional or not, we should all agree that a prompt resolution of this issue is in everyone's best interest."
Typically, the Supreme Court would take up a case on an expedited basis under Rule 11, which provides that an immediate review in the U.S. Supreme Court is permissible "upon a showing that the case is of such imperative public importance as to justify deviation from normal appellate practice and to require immediate determination in" the Supreme Court.
© All Rights Reserved, Living His Life Abundantly®/Women of Grace®  http://www.womenofgrace.com