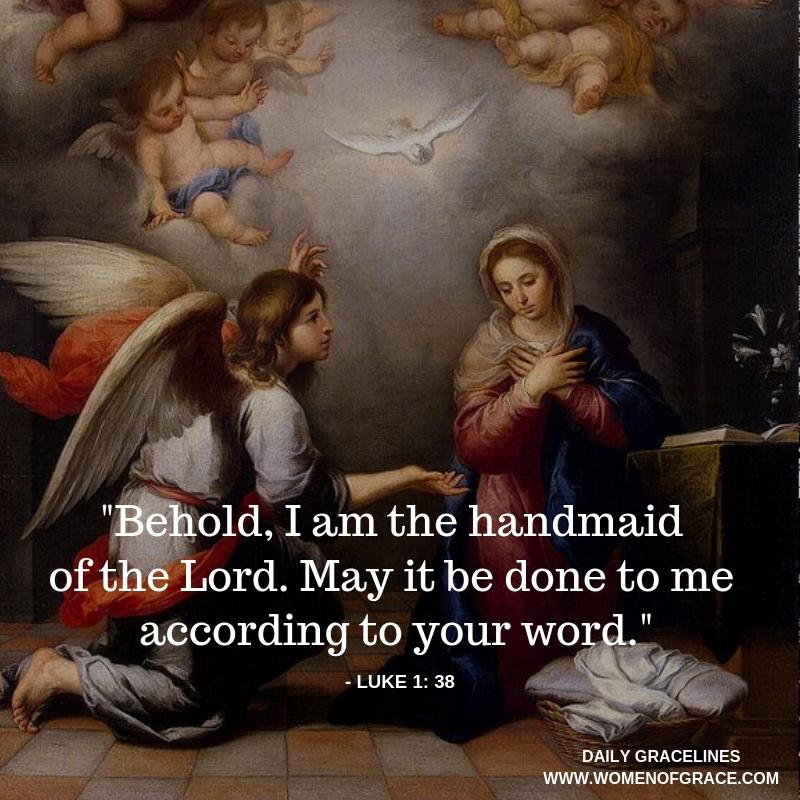 March 25
Solemnity of the Annunciation of the Lord
"The angel Gabriel was sent from God
to a town of Galilee called Nazareth,
to a virgin betrothed to a man named Joseph,
of the house of David,
and the virgin's name was Mary.
And coming to her, he said,
'Hail, full of grace! The Lord is with you.'
But she was greatly troubled at what was said
and pondered what sort of greeting this might be.
Then the angel said to her,
'Do not be afraid, Mary,
for you have found favor with God.
Behold, you will conceive in your womb and bear a son,
and you shall name him Jesus.
He will be great and will be called Son of the Most High,
and the Lord God will give him the throne of David his father,
and he will rule over the house of Jacob forever,
and of his Kingdom there will be no end.'
But Mary said to the angel,
'How can this be,
since I have no relations with a man?'
And the angel said to her in reply,
'The Holy Spirit will come upon you,
and the power of the Most High will overshadow you.
Therefore the child to be born
will be called holy, the Son of God.
And behold, Elizabeth, your relative,
has also conceived a son in her old age,
and this is the sixth month for her who was called barren;
for nothing will be impossible for God.'
Mary said, 'Behold, I am the handmaid of the Lord.
May it be done to me according to your word.'
Then the angel departed from her."
-Luke 1:26-38
Today's Reflection
Lent is a time of humility. A time when we listen more closely for the voice of God. A time when we seek to live more completely His will in our lives. Our Blessed Mother has much to teach is in this regard. She is the perfect example of receptivity, trust, and surrender. Her "fiat" or "yes" was complete and eternal. Ponder today's Gospel reading and ask Our Lady to show you the areas where you haven't yet given your fiat. Beg the Holy Spirit for the grace to do so.
---
Dear Women of Grace family,
As a means of daily support and inspiration, we will temporarily be sharing our Daily Gracelines with our entire email audience. We hope it is a source of daily encouragement for you as we walk through these challenging times together. We are praying for you. If you are not a subscriber, click here to subscribe.
With love and prayers,
Your Women of Grace Family
If you enjoy Daily Gracelines, please prayerfully consider making a donation to support and sustain our apostolate so that we may continue to provide this and all of our resources designed to nourish and grow your Catholic faith.
DONATE