By Susan Brinkmann, OCDS
Staff Journalist
The cause for the beatification of an Italian youth who created an international exhibit on Eucharistic miracles is being introduced in the Archdiocese of Milan.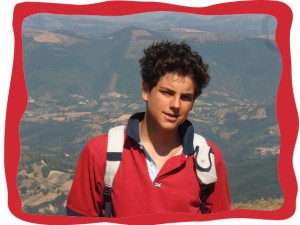 According to The Catholic Miscellany, the newspaper for the diocese of Charleston, South Carolina, Carlo Acutis was only 15 years-old when he researched and compiled the "Vatican International Exhibition of the Eucharistic Miracles of the World" from a collection of 140 officially recognized Eucharistic miracles. Carlos' mother, Antonia Salzano Acutis, who is a curator at the Pontifical Academy Coltorum Martyrum in Rome, helped him in the project.
Carlos died in 2006 from an aggressive type of leukemia, but is remembered as being a pleasant and thoughtful boy who had a variety of interest. His strong faith manifested itself in daily Mass and in the way he defended the moral teachings of the Church whenever they were contested in school.
In the book, The Eucharist: My Road to Heaven: A Biography of Carlo Acutis, author Nicola Gori calls him a "teen of our times."
"He tried hard in school, with his friends, [and] he loved computers.  At the same time he was a great friend of Jesus Christ, he was a daily communicant and he trusted in the Virgin Mary.  Succumbing to leukemia at the age of 15, he offered his life for the Pope and for the Church."
In the book, his mother recalls how, as a little boy, especially after receiving his First Communion, Carlos "never missed his daily appointment with the Holy Mass and the Rosary, followed by a moment of Eucharistic adoration."
She remembers how he offered his sufferings for the Pope and the Church as his young life was coming to an end.
"Surely the heroism with which he faced his illness and death has convinced many that he was truly somebody special," she said. "When the doctor that was treating him asked him if he was suffering a lot, Carlo answered: 'There are people who suffer much more than me!'"
Carlos' exhibit is currently on tour throughout the world and is sponsored on U.S. campuses by The Cardinal Newman Society, an organization dedicated to restoring the Catholic identity to the nation's Catholic institutions of higher learning.
"He is still spreading his faith and devotion universally as a youthful eucharistic evangelizer, especially helping those who are skeptical about the sacramental realities of our faith," writes Fr. Stanley Smolenski for the Miscellany.
Click here to learn more about bringing the Eucharistic Miracles exhibit to a school near you.
© All Rights Reserved, Living His Life Abundantly®/Women of Grace®  http://www.womenofgrace.com