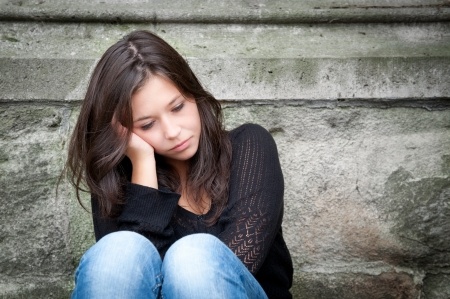 A new study published in the Journal of Pediatrics has found that suicides by self-poisoning among teen girls has soared in the last 18 years – and it all started shortly after 2010. Why?
Healthline.com is reporting on the study which examined youth between the ages of 10 and 24 and found that suicide is now the second leading cause of death in that age group. In that nearly 20-year period, there were more than 1.6 million intentional suspected-suicide self-poisoning cases. Even more alarming, 71 percent of those cases were female.
Researchers found that suicide among 10- to 19-year-olds increased 56 percent from 2007 to 2016. Among girls 10- to 14, however, the suicide rate nearly tripled in that time.
During the first 10 years of the study period, the number of suicide attempts among 10 to 15-year-old actually went down, but then something suddenly went wrong.
"There's been a change in suicide attempts in adolescents and young people," Henry A. Spiller, MS, DABAT, director of the Central Ohio Poison Center at Nationwide Children's Hospital and first author of the study, told Healthline.
"Something happened to kids after 2010 and 2011. The rate of suicide attempts almost tripled in a very short period," he said.
"This is hard data. These are kids in the ER who have attempted suicide. This isn't an increase in depression or surveys of suicidal thoughts. These are kids who have taken that step."
At the moment, researchers don't really know why all this is happening. Is there some socioeconomic driver? Is it because of social media pressure? Why are younger females so disproportionately affected?
"We've had changes in the demands that young people face both in their social worlds, in how they're viewing themselves, and how they're connected with other people. We know that things like hopelessness and lack of connection, and then access to lethal means and an awareness of how to end one's life, are factors that contribute to suicidal behavior," said John Ackerman, PhD, suicide prevention coordinator at Nationwide Children's Hospital.
Until more information is acquired, experts say we need to do a better job of preventing these suicides.
Researchers told Healthline that medications, both prescription and over-the-counter, were the most frequently used.
"We want to get information out to individuals that we need to do a better job of preventing access to poisons and medications, prescription and non-prescription," Ackerman said.
Parents need to be aware of all medications stored in their medicine cabinet and be vigilant about safely discarding old or expired drugs.
"We need to be having conversations with young people much earlier about emotional pain, specifically any thoughts of suicide," Ackerman added.
"Adults need to be comfortable asking uncomfortable questions."
If you or a loved one is having suicidal thoughts, contact the National Suicide Prevention Lifeline at 1-800-273-8255.
© All Rights Reserved, Living His Life Abundantly®/Women of Grace®  http://www.womenofgrace.com
Mothers! For the sake of our girls, we need to do more to counter the culture's toxic messages to teens. Our course, Young Women of Grace: Embrace Your Femininity  introduces girls to their inherent dignity as daughters of God. And our retreats in Lafayette, Louisiana, Malvern, Pennsylvania, and Albuquerque, New Mexico will open their eyes to the glories of the feminine genius and how they can use it to make their world a better place.