Commentary by Susan Brinkmann, OCDS
Staff Journalist
An abortionist whose practice catered to poor minorities has been charged with eight counts of murder in the deaths of one woman and seven babies who were born alive and then killed by severing their spinal cords with a scissor.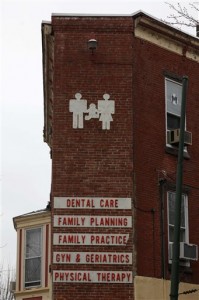 WPVI is reporting that Dr. Kermit Gosnell, 69, had been performing illegal late-term abortions in his clinic in a poor neighborhood in West Philadelphia for years, but wasn't caught until authorities came to investigate a drug-related complaint at the clinic last year. When they arrived on the scene, investigators said they found what they described as a "house of horrors."
"There were bags and bottles holding aborted fetuses were scattered throughout the building," said District Attorney Seth Williams. "There were jars, lining shelves, with severed feet that he kept for no medical purpose."
He said the women who came to Gosnell's Women's Medical Society came for illegal late-term abortion procedures which were performed in squalid and barbaric conditions.
Gosnell "induced labor, forced the live birth of viable babies in the sixth, seventh, eighth month of pregnancy and then killed those babies by cutting into the back of the neck with scissors and severing their spinal cord," Williams said.
Once discovered, the clinic was immediately shut down and Gosnell's medical license was suspended. Charges were filed against Gosnell, who has been named in at least 10 malpractice suits, including one involving the death of a woman who died of sepsis and a perforated uterus.
Nine other workers, some of whom were charged with murder, were untrained and unlicensed, including a high school student who actually administered anesthesia in the form of potentially lethal narcotics to patients, Williams told WPVI.
Gosnell had been in business for over 30 years but slipped through the cracks of lax abortion clinic regulations. Records show state regulators ignored complaints about him and have not visited or inspected the clinic since 1993.
Gosnell's gruesome practice is the perfect example of what is happening across the U.S. as a result of the abortion industry's refusal to allow states to inspect their clinics to insure reasonable safety standards. The National Abortion Federation has nicknamed the drive to enact stricter regulation as TRAP (Targeted Regulation of Abortion Providers) which they claim is politically motivated and singles out abortion clinics for what they believe are medically unnecessary regulations. As a result, "safe, legal" abortion in America remains little more than a clever catch phrase.
Gosnell is facing a charge of murder in the third degree for the death of the woman, infanticide, abortion at 24 or more weeks, abuse of corpse, corruption of minors and other related offenses.
His wife, Pearl, 49, who has no medical license, is accused of performing illegal abortions at the clinic.
Another clinic worker, Tina Baldwin, 45, was an unlicensed worker at the clinic who not only administered anesthesia to patients, she also allowed her 15 year-old daughter to do the same. She has been charged with Racketeering, Conspiracy, and Corruption of a Minor.
42 year-old Lynda Williams and 51 year-old Sherry West were unlicensed workers at the clinic who routinely performed illegal operations and administered anesthesia. Williams is also facing murder charges for the death of a viable baby born alive. The two women are facing a variety of other charges, including abortion at 24 or more weeks, Conspiracy, Racketeering, Tampering with records, Hindering Prosecution, Obstructing Administration of Law and other related offenses.
48-year-old Steven Massof of Pittsburgh is facing murder charges for the deaths of two viable babies born alive. Massof, a medical school graduate without a license or any certification, worked as a doctor at the clinic.
54-year-old Eileen O'Neill is a medical school graduate who worked as doctor at the clinic without a license or certification. She is facing Theft by Deception, Conspiracy, Racketeering, Perjury and False Swearing charges.
"This tragic report once again reminds us that the purpose of each abortion – no matter how it is performed – is to deliberately and brutally take at least one innocent human life," said David N. O'Steen, Ph.D., executive director of the National Right to Life Committee.
"The victims are helpless little members of the human family, and this is equally true whether the killing is completed inside or outside of the womb.  And tragically, in this case, it is reported that a mother also lost her life.  If the reports prove true, these individuals should be prosecuted to the fullest extent of the law."
© All Rights Reserved, Living His Life Abundantly®/Women of Grace®  http://www.womenofgrace.com