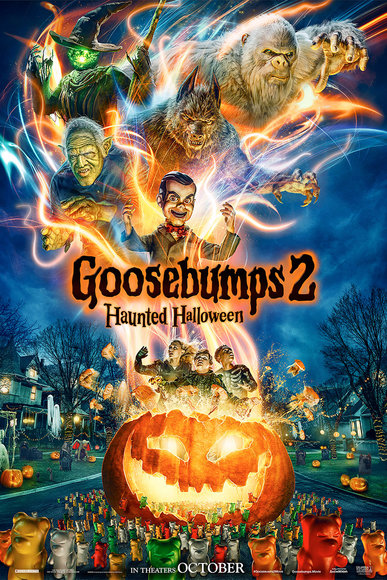 CF asks: "There is a 'family friendly' Halloween movie coming out. It is called Goosebumps 2: Haunted Halloween. If the movie is based on the books, how is it really 'family friendly?'"
Good question! And it could be why the Christian movie reviewer, Plugged In, didn't give the movie a very good review.  Although it's not as bad as the first movie or the R. L. Stine book series of the same name that was ranked 15th on the list of the most frequently challenged books for its occult content, there is quite a bit of "unexplained magic" in this film.
For those who are not familiar with the story of the Goosebumps movie, it revolves around two eleven-year-old boys named Sunny Quinn and Sam Carter. The two start up a small junk-collecting and disposal business and one of their first jobs is to clear the junk out of an old house. The boys find a treasure trunk in the house and open it to find a locked book entitled, Haunted Halloween. When they find the key and unlock it, they discover it's just a book full of words and put it back in the trunk. However, on their way out, when they look back at the trunk, which used to be empty except for the book, they see a ventriloquist dummy sitting inside.
The dummy, named Slappy, is able to talk and has magical powers that enable it to bring all kinds of creepy things to life like witches, mummies, and vampires. He's also able to magically do the boy's homework and move inanimate objects. Even though there's a lot of this kind of magic in the movie you can also ดูหนังออนไลน์, the reviewer says it feels "more magic-wand-like than dark and occultish."
There is a scene where a spell-like mantra is read by Sonny which causes Slappy to come to life. Once he does, he repeats the mantra to cast his magic spells.
Sonny and Sam do eventually realize that Slappy's wooden head is full of "sinister things" but by the time they do, things are really out of hand and it's up to the "Junk Bros." to save the world.
"First of all, this is indeed a silly comic send-up of scariness," writes reviewer, Bob Hoose. "It features tons of crazy pell-mell antics, pumpkin smashing and trick-or-treater pummeling in its small-town streets. But from broom-riding plastic witches to teeth-gnashing gummy bears to a towering tarantula made of balloons, the whole screwball affair feels much more wheee than Ouija."
Common Sense Media also reviewed the movie and found it to be "more creepy than terrifying." But they believe some children could be frightened by Slappy, who is portrayed as a menacing, weathered dummy that just won't die. This character is "genuinely creepy in a way that could linger with younger kids," the review states.
However, some of the parents who commented on their review took it a step further.
"This is NOT a movie I would ever take my almost 10 year old boy and 12 year old daughter too," one mother wrote. "Grandma and Grandpa did take us all. I was unprepared for the inappropriate images based on the PG Rating. The doll Slappy is what I imagine Chucky to have been like back in the day. He is demonic and scary. . . . I would not recommend this movie to anyone. I especially would advise parents who care what images their children are exposed to before considering this film review heavily."
Another parent of a nine-year-old found the movie to be "very light in humor" and said the movie is not appropriate "if your child is one to scare easily . . ."
This is hardly surprising as the book series was ranked 15th on the list of most challenged books from 1990 – 1999 mostly for being too frightening for young people and depicting occult or Satanic themes.
Published by Scholastica (of Harry Potter fame), the Goosebumps series is categorized as children's fiction of the horror or thriller genre. There are at least 62 titles in the series and 200 million copies in print, most of which have similar characters and plot lines.
© All Rights Reserved, Living His Life Abundantly®/Women of Grace®  http://www.womenofgrace.com
Worried about the content in your children's entertainment? Join us for the webinar, Beyond Halloween: How the Occult is Infiltrating Your Child's Life on Tuesday, October 23 at 8:00 PM EST for vital information on how to keep your family safe! Click here to register.