By Susan Brinkmann, OCDS
Staff Journalist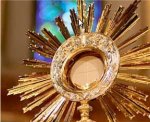 The Bishop of Fréjus-Toulon, France, Msgr Dominique Rey, today announced a major international conference on Eucharistic Adoration to take place in Rome from June 20-23, 2011.
Organized by the Missionaries of the Most Holy Eucharist, a new community founded by Bishop Rey in 2007, the conference brings together a wide range of international speakers, including seven prominent Cardinals.
"The first condition for the new evangelisation is adoration", Bishop Rey said. "We must regain the ability to adore Christ in the Most Holy Eucharist if we are to bring the men and women of the twenty-first century to faith in Jesus Christ. This is one of the key themes of the pontificate of Pope Benedict XVI", he emphasised, "which is why we are taking this initiative."
Adoratio 2011 will include fourteen conferences, workshops, the celebration of Mass in the new and older forms, all-night adoration and the divine office. Approximately 300 resident participants are expected, with more due to attend on a daily basis. Simultaneous translation services will be provided in the main languages.
Topics include "Eucharistic Adoration as the heart of Diocesan Life" by Cardinal Antonio Canizares Llovera, Prefect of the Congregation of Divine Worship; "Adoration as the Foundation of Justice and Peace" by Cardinal Peter Turkson, President of the Pontifical Council for Justice and Peace; "Celebrating the Feast of Corpus Christi" by Msgr. Guido Marini, Master of Pontifical Ceremonies at Vatican City; "The Importance of Adoration of the Blessed Eucharist in the Formation of Priests" by Cardinal Raymond Burke, Prefect of the Tribunal of the Apostolic Signatura; "The Eucharist, Adoration and Healing" by Fr. Nicolas Buttet, Founder of the "Fraternite Eucharistein".
Cardinal Francis Arinze, former Prefect of the Congregation for Divine Worship will be the main celebrant and homilist at a Mass on Tuesday, June 21. 
The Conference will conclude by joining with Pope Benedict in his celebration of the Solemnity of Corpus Christi at the Basilica of Saint John Lateran and the Eucharistic procession to the Basilica of St Mary Major that follows.
Fr Florian Racine, founder of the Missionaries of the Most Holy Eucharist and the principal organiser, stated: "We are confident that this conference will make an important contribution to the new springtime of Eucharistic adoration that is so dear to the heart of our Holy Father, Pope Benedict. We are humbled by the many people who have already given so much to make this conference something far better than we ever dared to hope it could be. Adoratio 2011 already promises to be an important international event in the life of the Church in 2011."
A special website has been set up for the conference and can be accessed Adoration 2011.
© All Rights Reserved, Living His Life Abundantly®/Women of Grace®  http://www.womenofgrace.com