A man who allegedly stabbed women in the back of the neck and then sucked their blood while they were riding subways in Russia has been arrested.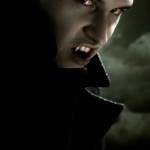 The Daily Mail is reporting that police in St. Petersburg, Russia's second largest city, arrested a 28 year-old man from Lviv, Ukraine, who they say has confessed to the bizarre crimes.
The man attacked 15 women between the ages of 16 and 28, stabbing them in the back of the neck with needles, pins, and sharpened knitting needles. He would then warn his victims to "be careful." Unconfirmed reports say the man licked the blood from some of his victims before disappearing in the crowd.
Police were able to catch the man after victims shared details of their attacks via the internet.
The name of the attacker has not been released.
A police spokesman said: 'We are trying to understand his motive.'
Metro.co.uk is reporting that this is not the first time Russian police have had a run-in with a "vampire."
Last year, 19-year-old Vyacheslav Zhuravlev, who was dubbed the Siberian Dracula, was arrested for beating a man to death and then drinking his blood. The attack was so vicious, police said the victim's head was almost severed from his body.