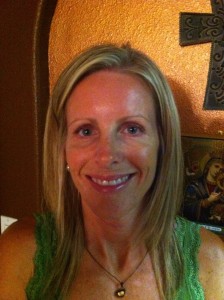 My name is Barbara Mancuso, a parishioner at Blessed Sacrament Catholic Church, Clermont, Florida. 
Being a convert to the faith approximately 20 years ago, my journey continues.  In my desire to learn the Catholic faith and my purpose as a Cathloic woman, I participated in the Women Of Grace Study program 4 years ago.  It was a profound turning point in deepening my faith not only as a Catholic, but as a woman in the eyes of my Heavenly Father.  I was hearing many theological truths about why God created woman and truly seeking my role in that plan.  This to me was not just "another bible study".  So many answers to questions I didn't know how to ask! 
Each portion of the study "met" me right where I was in my journey and then led me deeper on that path.  It set the foundation for a spiritual healing and opened my eyes to a greater purpose than I would even hope for.  I have continued to "study" with  active participation in viewing the Women Of Grace daily television program on EWTN, as often as I can.  I also attend the annual Women Of Grace conference where I am filled with more zeal to help others.  I share my experiences with women I come in contact with, finding that this study is exactly what they  are seeking as well!
Currently  I co-facilitate the Women Of Grace Study at my parish as well as have a group in my home. I know the Holy Spirit has anointed this work that Johnnette Benkovic has so whole-heartedly put forth, by all the fruits I witness on a regular basis.  The merits of being an "aide" in these fruits has been not only personally rewarding, but has continually inspired me to stay the course of my journey in aiding humanity in whatever small way I am called to do.
By being involved with Women Of Grace, an anchor has been set in place for the foundation to participate in the other ministries I am involved in such as Faith Formation of Confirmation for teens, lector at mass and a team member of the annual Emmaus Retreat for women.
I chose this study not just as a one-time participation, but as a continued renewal of faith and a means in finding the purpose for my soul, seeking to know what God has planned for me!  What I love about it is that it encapsulates the teachings of our rich Catholic faith as well as the ways and means to practice it.  My hope is to develop a deeper union with Jesus Christ through the guidance of the communion of Saints and through the spouse of the Holy Spirit, Our Blessed Mother Mary.