MP writes: "On Veritas, an Irish Catholic site http://www.veritasbooksonline.com/anatomy-of-the-spirit.html, I found an advertisement for Caroline Myss' book Anatomy of the Spirit. Isn't she New Age? The book "describes a seven-step process for promoting physical, emotional, and spiritual healing, offering a detailed introduction to the new field of energy medicine."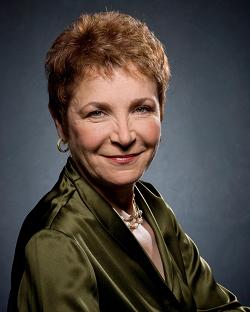 Caroline Myss is more than just New Age – she's also very much involved in the occult.
Ms. Myss calls herself a "medical intuitive"which is a person who claims to be able to use psychic powers to diagnose a person's physical condition by reading their "energy field" – you know, the fictitious energy for which science has no evidence of existence.  Perhaps this why Myss has never been able to offer any scientific evidence to substantiate her alleged powers. The only evidence she provides are anecdotal  testimonies from people she supposedly helped.
Myss, who founded the Caroline Myss Education Institute (CMED) a decade ago, is the author of numerous books including five New York Times Best Sellers: Anatomy of the Spirit (1996), Why People Don't Heal and How They Can (1998), Sacred Contracts (2002), Invisible Acts of Power (2004), and Entering The Castle (2007). Her most recent book, Defy Gravity, was published in 2009. Not surprisingly, she was a frequent guest on the Oprah Winfrey Show.
In her official bio, she refers to herself as an "internationally renowned speaker in the fields of human consciousness, spirituality and mysticism, health, energy medicine, and the science of medical intuition."
For those of you who are not familiar with the term medical intuitive, this is an alternative medical practitioner who claims to be able to use psychic powers to discover the cause of a person's medical condition. Other terms for this practice include medical clairvoyant, medical psychic or intuitive counselor. Believe it or not, some of these occultists have actually been hired by hospitals, clinics and other medical offices even though (thankfully) the majority of the medical profession regards them as complete quacks.
But they're dangerous quacks. Not only because they are relying on occult powers to effect their "cures," which places a person in grave spiritual danger, but also because these charlatans have caused immeasurable physical and financial harm to their unsuspecting clients. See this website for some very sad examples.
Michael Shermer sums up Caroline Myss very neatly in his book The Skeptic: Encyclopedia of Pseudoscience: "Caroline Myss offers no tangible evidence to support any of her claims. Her hypothetical energy system cannot be detected, her intuitive diagnostic abilities are unproven, and her holistic philosophy is riddled with inconsistencies and unsubstantiated judgments."
No Christian website should be recommending her work. They should be informed of the occult-nature of her books and kindly advised to remove them from their catalog.
Send your New Age questions to newage@womenofgrace.com