Note: This blog was reviewed and updated in May, 2020
Connie asks: "I have a question about using vitamins and herbs. I take a multivitamin, Vit E, Vit C, Acidolpholis, Calcium, Magnesium, and zinc daily. I also take for peri-menopause Black Cohosh Extract and Alpha Lipoic Acid(which has helped me greatly) daily. Would any of these vitamins or herbs be considered New Age and should I stop taking any of them?"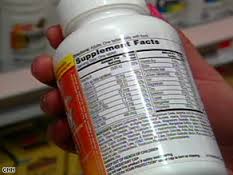 Even though the alternative healing market is inundated with both vitamins, herbs and the New Age, there is nothing inherently New Age about vitamin or herbal compounds.
However, it's good to keep in mind that the supplement industry in general is not regulated and polices itself, a situation that has caused many problems such as poor quality and the inclusion of ingredients that can be dangerous to those with allergies such as as peanut derivatives and gluten. This has been found in many supplements in spite of the fact that the labels were marked "peanut and gluten free." A 2015 investigation by the New York Attorney General's office found rampant product problems in the supplement industry that resulted in millions of dollars worth of product being pulled from shelves in popular retailers such as Walmart and Target.
The National Institutes for Health offers free fact sheets on many vitamins and minerals, dietary supplements and herbal remedies.
© All Rights Reserved, Living His Life Abundantly®/Women of Grace®  http://www.womenofgrace.com