By Susan Brinkmann, OCDS
Staff Journalist
A serial killer who terrorized New York City in the late 70's says he has no interest in being paroled because he is "already a free man" in Jesus Christ.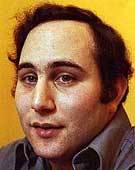 David Berkowitz, 58, known as "Son of Sam" who killed six people and during a spate of serial murders in the 1976-77, recently wrote a letter to Fox News in which he said he has no interest in getting out of jail and will not be seeking release from prison when his next opportunity for parole comes up in May.
"I have no interest in parole and no plans to seek release," Berkowitz wrote in an Aug. 6 letter to Fox News. "If you could understand this, I am already a 'free man.' I am not saying this jokingly. I really am. Jesus Christ has already forgiven and pardoned me, and I believe this."
Berkowitz is serving six counts of 25 years to life for each of the people he murdered by shooting them at point-blank range while they sat in their cars at popular dating spots outside the city of New York. He got the nickname after leaving notes at the scene of the crime which read: "I am a monster. I am the Son of Sam." He claimed demons were instructing him to kill women and he terrorized the Bronx and Yonkers for nearly a year before he was captured and arrested in 1977. He is currently residing at the Sullivan Correctional Facility in Fallsburg, New York.
Carole Weaver, a spokeswoman for the New York State Division of Parole, told Fox that Berkowitz's plan not to seek release is unusual among inmates.
"Not many people who are incarcerated don't want to get out," Weaver told FoxNews.com.
Berkowitz seems to be genuinely at peace among the prison population where he works as a "mobility guide" for legally blind inmates, as well as an "inmate program aid" [sic] for mentally challenged prisoners.
"I also help out in the facility's chapel, where I assist in overseeing our Sunday services plus other services and Bible studies," Berkowitz said. "My main activities are sharing my story of redemption and hope with those on the outside, as well as writing a monthly journal which can be viewed at Ariseandshine.org."
Berkowitz said he reads the Bible daily and has "made the best" of his time behind bars, thanks in part to his devotion to Jesus Christ.
"He has given me a whole new life, which I do not deserve," he wrote. "And while society will never forgive me, God has. I am forever grateful for such forgiveness, too."
He also told Fox he has "deep regret and sorrow over my past criminal actions."
"I would do anything if I could go back and change things [to] have prevented the tragedy from happening. Of course this is not possible," he said.
© All Rights Reserved, Living His Life Abundantly®/Women of Grace®  http://www.womenofgrace.com