By Susan Brinkmann, OCDS
Staff Journalist
The American Center for Law and Justice (ACLJ) said today a federal lawsuit filed by an atheist group challenging the placement of a cross at the World Trade Center Memorial and Museum in New York City is deeply flawed and without merit.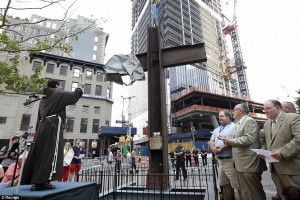 "This is another pathetic attempt to re-write the Constitution and re-write history by removing a symbol that has deep meaning and serves as a powerful remembrance to that fateful attack nearly ten years ago," said Jay Sekulow, Chief Counsel of the ACLJ. "This lawsuit is deeply flawed and without merit. This is just the latest chapter of an anti-God strategy employed by atheist organizations across the country – a strategy offensive to millions of Americans, a strategy that we're confident ultimately will fail in court."
The ACLJ said it is preparing an amicus brief to file in support the cross, which consists of two intersecting steel beams that held up when the Twin Towers collapsed on September 11, 2001. The ACLJ is representing former NYC firefighter and first responder Tim Brown, who lost nearly 100 friends in the attack.
"We will aggressively defend the placement of this cross," said Sekulow. "This memorial, a powerful part of the history of 9-11, serves as a constitutionally-sound reminder of the horrors that occurred nearly a decade ago."
The ACLJ notes that court challenges by atheists organizations in the past targeting the Pledge of Allegiance, the National Motto, the National Day of Prayer have failed. The ACLJ, which filed amicus briefs in those cases, says it plans on representing Tim Brown and others in its amicus brief.
Led by Chief Counsel Jay Sekulow, the American Center for Law and Justice focuses on constitutional law and is based in Washington, D.C. 
© All Rights Reserved, Living His Life Abundantly®/Women of Grace®  http://www.womenofgrace.com
Photo is by Reuters.