By Susan Brinkmann, OCDS
Staff Journalist
The leaders of three Catholic dioceses in Illinois – Springfield, Peoria and Joliet – initiated legal action yesterday on behalf of their Catholic Charities asking the courts to allow them to continue to provide foster care without recognizing the parental rights granted to same-sex and cohabiting couples in a recently enacted civil unions bill.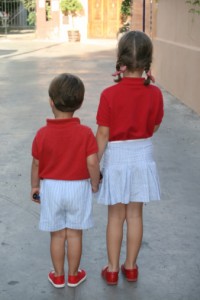 Accordint to My Suburban Life.com, a lawsuit was filed in Sangamon County Circuit Court yesterday on behalf of the three dioceses seeking a declaration that their policy of not placing foster children in the homes of unmarried or same-sex couples is in compliance with the new civil unions law. For years, the charities have referred those couples to other agencies.
The newly enacted law, known as the Religious Freedom Protection and Civil Union Act, grants same-sex and cohabiting couples the same rights as married spouses, including parental and adoption rights. However, the charities are arguing that the Illinois Human Rights Act exempts religious adoption agencies from the provisions relied upon by the Attorney General's office when it declared the charities to be discriminating against these couples in March of this year. They also contend that the new Religious Freedom Protection and Civil Union Act includes an express protection for the religious freedom of entities like Catholic Charities.
Church officials are asking for a clear answer on whether or not this applies to their adoption and foster care services  and are asking the court to declare that they are legally justified to continue their current practice of working only with married couples and single, non-cohabiting individuals. Civil union couples are free to choose among dozens of other organizations for these services.
"Child welfare advocates know it is in the best interest of Illinois children for Catholic Charities to stay in this business," said Steven Roach, Executive Director for Catholic Charities in the Springfield Diocese. "It's tragic that there are people who believe unnecessarily disrupting the lives of thousands of vulnerable children is an acceptable outcome in this situation."
Catholic Charities handle about 20 percent of the adoption cases in Illinois and are extremely concerned about the welfare of the children and families they serve if they are forced out of this work.
"Religious and faith-based entities need not check their beliefs at the door when providing vital social services for the benefit of needy and vulnerable children and families in Illinois," said Tom Brejcha of the Thomas More Society, which is representing the charities in the lawsuit.
"Catholic Charities has a clear right under Illinois law to pursue its charitable good works in the true spirit of the Gospels and the Sermon on the Mount, faithful to the essential tenets of its Catholic faith. We will advocate strongly to protect Catholic Charities' continuing its mission of social service."
© All Rights Reserved, Living His Life Abundantly®/Women of Grace®  http://www.womenofgrace.com