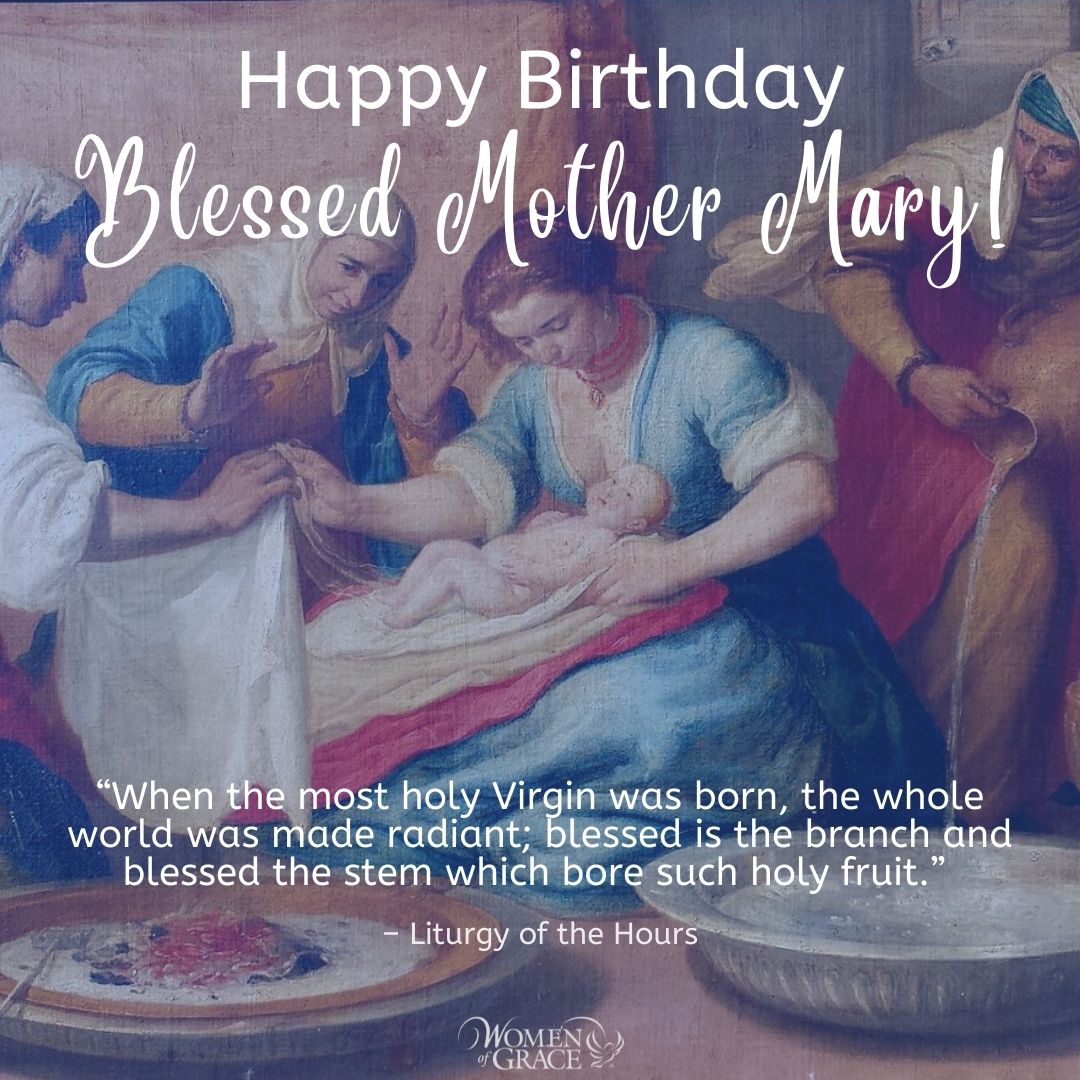 "When the most holy Virgin was born, the whole world was made radiant; blessed is the branch and blessed the stem which bore such holy fruit."
-Liturgy of the Hours
Today we celebrate a very special feast day, the Nativity of the Blessed Virgin Mary. On the day of her birth, the world was made more radiant because she would bear Christ, Our Savior, to the world.
How will you celebrate this special day? Here are ten ideas:
Throw a party! How do you celebrate the birthdays of your family members? Most of us throw a party. Why not throw a party for Our Blessed Mother, who is a member of our eternal family.
Renew your consecration. Have you made the Consecration to Jesus through Mary? If so, today is a wonderful day to renew it. We are encouraged to make this renewal often, especially on Marian feast days, so today is a wonderful day to renew it again.
Wear blue. There is a long-held tradition that blue is one of Our Lady's favorite colors and that she wore it often. Today is the perfect day to honor her by wearing her favorite color.
Buy her flowers. What woman doesn't love flowers? We can imagine that Jesus would have brought Our Lady beautiful wild flowers on her birthday. Perhaps you can do the same. Or maybe you want to go all out and buy her a dozen yellow roses, which are said to be her favorite.
Make a holy hour or go to mass. Spend an hour in gratitude for the gift of Our Lady's life and for the "fruit of her womb," Jesus.
Make a pilgrimage to your local parish or shrine, dedicated to Mary. Some of the parishes that are dedicated to Our Blessed Mother contain beautiful works of art, stained glass windows, and statues. Allow yourself to be inspired by how others have honored her through their artistic talents.
Listen to Marian hymns. There are so many ways to enjoy sacred music today. Visit your favorite app or website and download a playlist of Marian hymns and enjoy.
Ponder how you can imitate Our Lady's virtues. Ask Our Lady to give you the grace to grow in her virtues. Is there one that is particularly in need of development? St. Louis de Montfort lists the following "ten principal virtues of the Most Holy Virgin Mary": Profound humility; Lively faith; Blind obedience; Continual prayer; Universal mortification; Divine purity; Ardent charity; Heroic patience; and Angelic sweetness
Give someone a Miraculous Medal. The Miraculous Medal also know as the "Medal of the Immaculate Conception," has been promoted by many saints and holy people for the graces and miracles received by those who wear it. Join the army of individuals who follow the example of St. Maximilian Kolbe and others who spread the faith through this powerful instrument of God.
Pray the Holy Rosary. Our list would not be complete without encouraging you to pray the Rosary today. You could go the extra mile by praying all four sets of mysteries.
These are just a few ways to celebrate Our Blessed Mother today on her birthday. What are your favorite ways to celebrate the gift of her life to the world?
Please join us for this week's Women of Grace Rosary Crusade!
———————————-
Click the image below to join and if you've already registered, you should receive a reminder link directly from Zoom. Please be sure to share the information below with your friends and family!