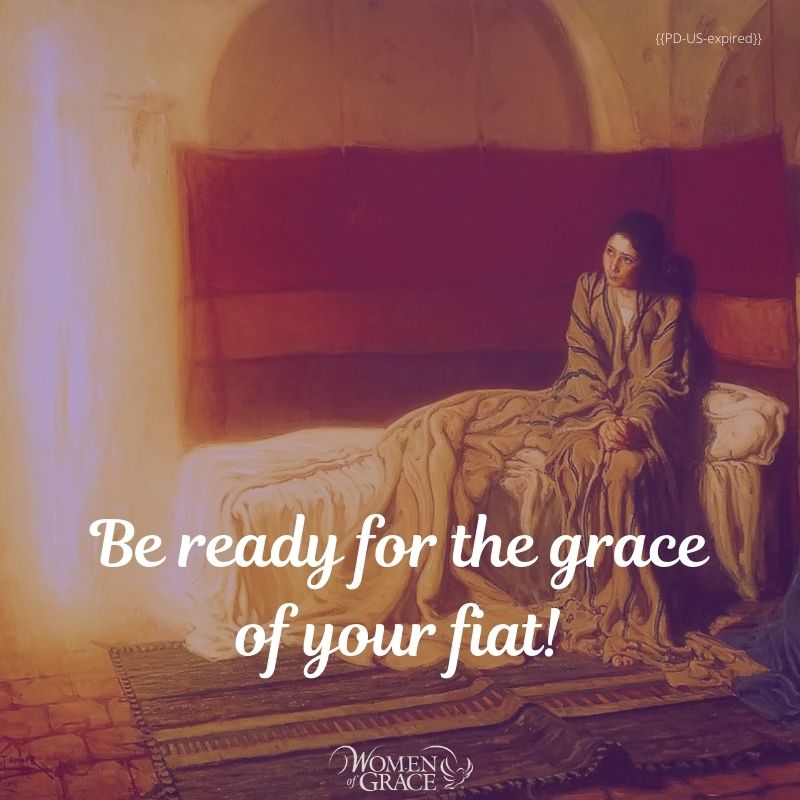 This Thursday, we celebrate the Solemnity of the Annunciation of the Lord, a day very near and dear to the heart of Women of Grace.
You know the scene well. In the sixth month of her cousin Elizabeth's miraculous pregnancy, the angel Gabriel appeared to Mary and said, "Hail, full of grace, the Lord is with you!" He told her that she would conceive in her womb and bear a son, the Son of the Most High, and His name would be Jesus.
Not knowing how this would be accomplished, Gabriel revealed, "The Holy Spirit will come upon you, and the power of the Most High will overshadow you; therefore the child to be born will be called holy, the Son of God."
Mary's response, her fiat, was one of the most decisive moments in salvation history. It was as if all creation paused and waited with bated breath for her answer. And her answer was a resounding yes — body, mind, and soul.
Our lives, similar to Our Lady's, are filled with fiat opportunities. God invites and inspires us to follow her example of receptivity, trust, and surrender. And though the consequences of our answer may not impact ALL of creation, it does have an impact.
Whether our fiat touches one soul or a thousand, it has infinite importance to God. He is the Good Shepherd who leaves the many sheep for the one.
What are you being invited to today? On this Solemnity of the Annunciation, be open to hearing God's voice prompting you, and be ready for the grace of your fiat.
We hope you will join us for this week's Women of Grace Rosary Crusade as we celebrate the Annunciation of the Lord and the gift of our salvation!
———–
Click the image below to join and if you've already registered, you should receive a reminder link directly from Zoom. Please be sure to share the information below with your friends and family!