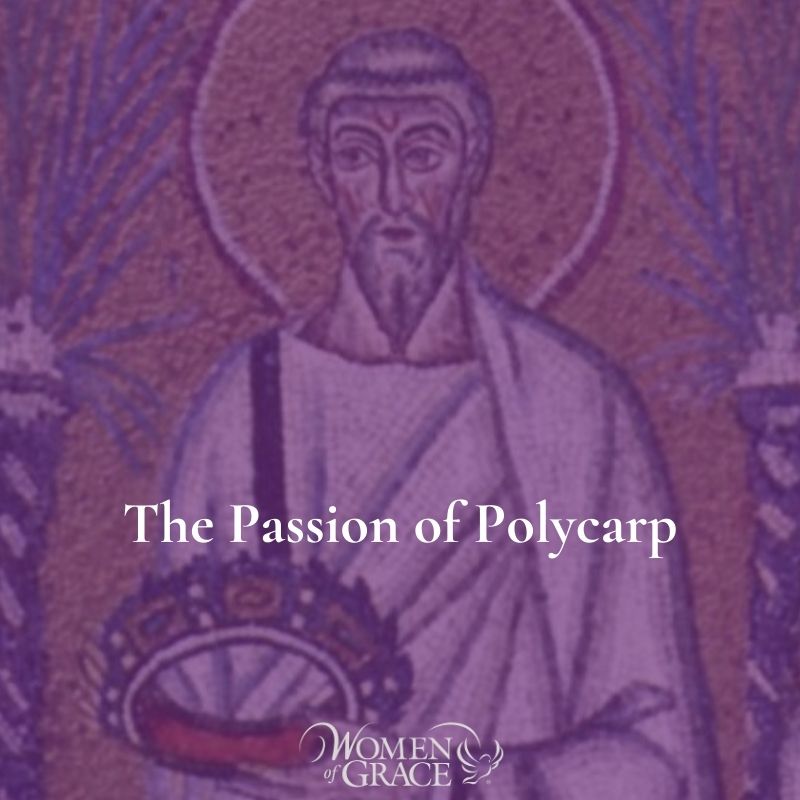 "I bless Thee, O God, for having vouchsafed to make me a partaker in the Passion of Jesus Christ Thy Son, by rendering me worthy to offer myself as a sacrifice for Thy honor that I may be enabled to praise Thee in heaven, and to bless Thee for all eternity."
These are the inspiring words of St. Polycarp whose optional memorial we celebrate today. He was ordained a Bishop of Smryna by St. John the apostle, just before St. John was exiled to the island of Patmos. Polycarp was revered by the Christians of his diocese and reputed for his heroic virtue. He was also known for denouncing heretics, including Marcion, who spread the false belief that Jesus Christ was not the Son of the God of the Jews, but the Son of the "good God," who was different from the "wrathful God" of the Old Covenant.
At the time of his martyrdom, St. Polycarp was eighty-six years old and had governed the church of Smyrna for many years. He refused to worship the pagan gods of the Roman leaders of his time and as punishment, was set on fire to be burned alive. But God in His providence had other plans. The flames did not touch his body but formed an arch around him, reminiscent of Hananiah, Azariah, and Mishael, who were protected from the fiery flames of King Nebuchadnezzar when they refused to worship a golden image. It wasn't until he was struck through with a spear that St. Polycarp died about the year 160.
Lent is a good time to ponder the dying words of St. Polycarp. Aren't you struck by how much he sacrificed versus how easily we give up on even the slightest of sacrifices? How resolved he was as opposed to how quickly we let go of the good resolutions that we have endeavored to take up? What great courage he had and how little courage we have in the face of even the smallest level of persecution for our faith?
St. Polycarp is a powerful reminder of what the early Christians had to endure for their faith in Jesus and in their love for the Catholic Church. May we be inspired to renew our Lenten practices so that we too may have the courage to endure to the end.
Join us again this week as we continue our Women of Grace Rosary Crusade. Let us encourage each other in the spiritual battle.
———–
Click the image below to join and if you've already registered, you should receive a reminder link directly from Zoom. Please be sure to share the information below with your friends and family!