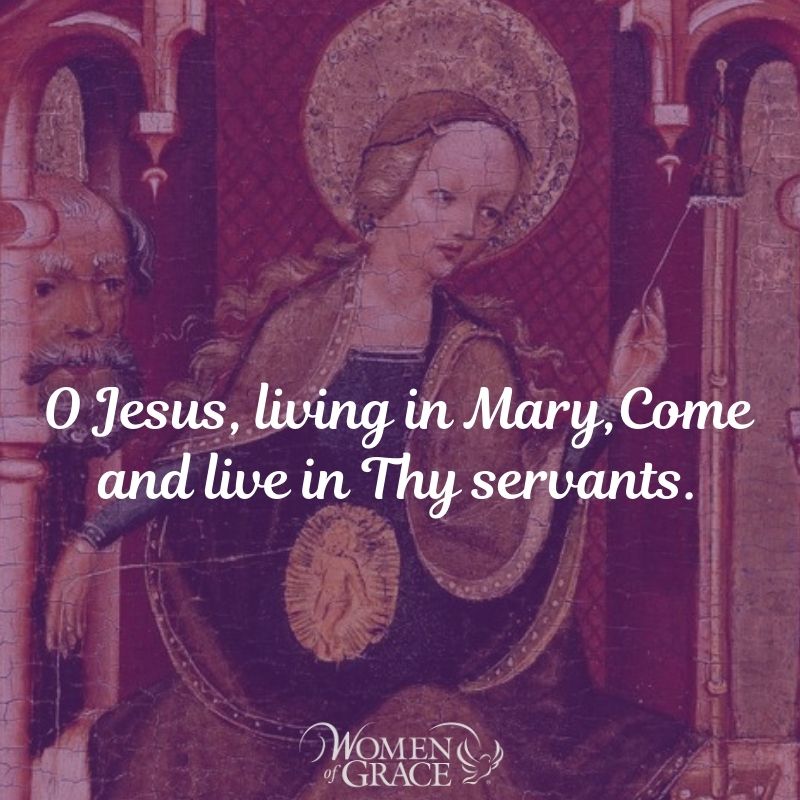 THE PRAYER O JESUS, LIVING IN MARY
By St. Louis de Montfort.
O Jesus, living in Mary,
Come and live in Thy servants,
In the spirit of Thy holiness,
In the fullness of Thy might,
In the truth of Thy virtues,
In the perfection of Thy ways,
In the communion of Thy mysteries.
Subdue every hostile power
In Thy spirit, for the glory of the Father.
Amen.
This prayer is a beautiful reminder of the relationship between Our
Blessed Mother Mary and Jesus, her Son. He inhabited her womb and
she bore Him to the world, just as we are called to do.
We have this same opportunity every day and especially during
Advent. Through the intercession of Our Lady, who is the fastest,
surest, and most direct way to Jesus, we can allow Jesus, more and
more, to impregnate us with His grace, His mercy and His truth so
that we may bear His Divine Life to the world.
O Jesus, living in Mary,
Come and live in Thy servants.
Pick up your weapon, the Rosary, and pray with us for our weekly Women of Grace Warrior's Rosary Crusade every Wednesdays at 4PM ET. Click the image below to join and if you've already registered, you should receive a reminder link directly from Zoom. Please be sure to share the information below with your friends and family!